The Center for Long-Term Cybersecurity (CLTC) is proud to announce the winners of our third-annual Cybersecurity Arts Contest. Following a review by an independent and interdisciplinary panel of judges, three projects were selected based on their artistic merit, relevance, and potential impact. Brief descriptions of the winning projects are summarized below.
The primary goal of the Cybersecurity Arts Contest is to expand representations of cybersecurity, broadly defined, through artistic expression and public dialogue. Learn more about previous arts contest winners here and here.
---
"Facework," Kyle McDonald
1st Prize: $10,000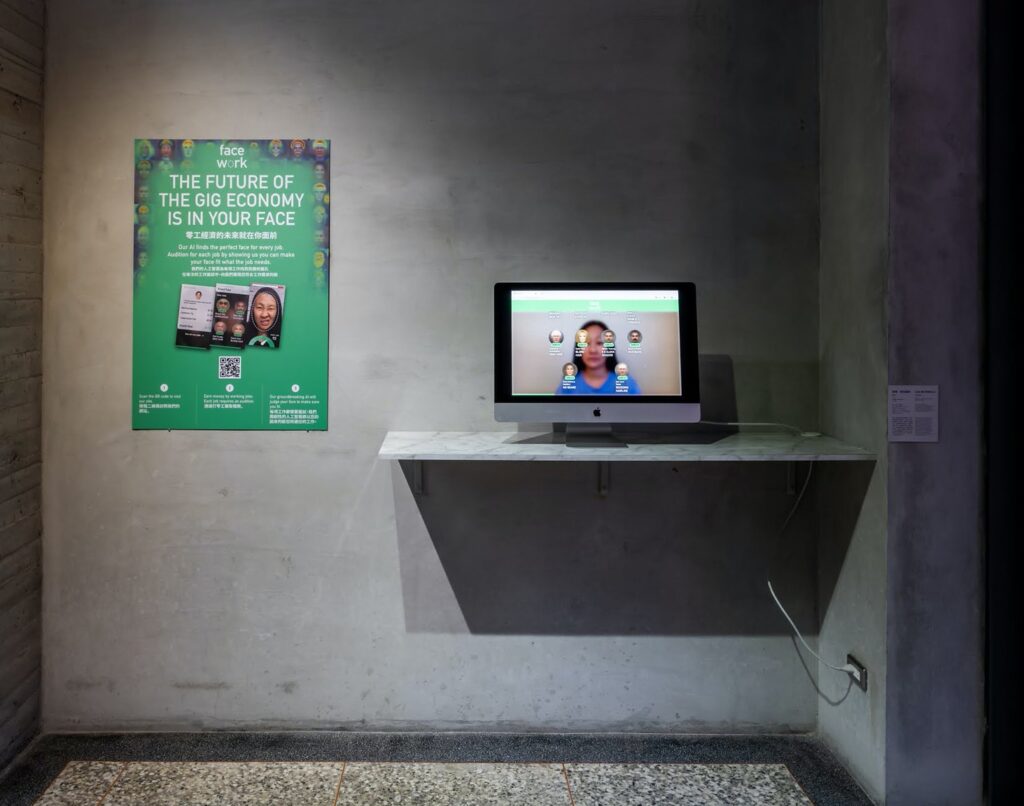 Kyle McDonald's Facework is a game that imagines a world where face analysis is key to the latest gig economy app. As a Faceworker, the player is required to "audition" for each new job. The game begins with innocuous challenges, such as to smile or wear glasses. But as they choose their path, an unexpected interruption takes the game in a new direction, accompanied by increasingly uncomfortable criteria for job suitability. In this way, users experience for themselves how we are seen by the algorithms that are increasingly running the world. Players are given an opportunity to interrogate in real time how computer vision and machine learning tools work — to playfully grow an intuition for what it means to see like a machine, and to understand how machines can fail.
Facework addresses issues of surveillance technology from multiple facets, including the collection of personal and intimate data by corporations and institutions, but also the ways in which we freely share such information through our recreational use of social media or online games. The interactive and participatory platform allows users to recognize issues of security, surveillance, and machine learning through a personalized experience with the art work, and consider implications of the encroachment of such technologies into contemporary labor markets.
Facework hopes to give a tech-interested audience an intuition for the ways that machine learning and computer vision can be weak under adversarial conditions — contrary to the usual high accuracy statistics cited by researchers and institutions who have an incentive to present the latest tech as infallible. For other artists, it is designed to show that intuition-building can be a valuable creative direction, rather than simply "making visible," and to show that the latest tech can be explored and deployed on-device and in-browser in a privacy-preserving way, without sacrificing accessibility, and without relying on corporate APIs that harvest user data.
---
"Portrait of a Digital Weapon," Mac Pierce
2nd Prize: $5,000
Issues of cybersecurity are rarely couched in terms of warfare to the larger public, and are often portrayed as one-off attacks or the work of stateless cyber criminals. This no longer reflects the reality of the situation, as some of the largest attacks are carried out by national actors for the purposes of achieving state goals, much like traditional armaments of war. As more nations develop cyber-offensive capabilities, more of these attacks will occur. However, unlike conventional warfare, these attacks will never elicit an in-kind declaration of war, as they often remain covert. This cloak-and-dagger approach to cyber warfare allows these attacks to continue and escalate.
Mac Pierce's Portrait of a Digital Weapon is a series of electronically activated portraits depicting infamous, real-life examples of computer viruses, such as Stuxnet and NotPetya, being used as a tool of geopolitical and financial attack by nation-states. Each piece reads off the decompiled source code of the virus while displaying select elements of how each of the viruses operated and satellite imagery of the attack target. These works lay out the story of the battlefields in which these cyber weapons were used within a traditional painting frame, alluding to the many examples of works of art about war and global conquest throughout history.
The ongoing Portrait of a Digital Weapon series attempts to bring these covert attacks to light and highlight these viruses for what they are — cyber weapons. "When a viewer engages with this work, processing the meaning and the ramifications of the content of the work, I hope that they come away with a sense of unease about the computer viruses depicted," Pierce said. "Ultimately, the two viruses highlighted so far were covert operations, and greater knowledge of the particulars of their use will only lead more people to question why these viruses existed in the first place. By aestheticizing the elements of each virus, they become far easier to understand."
Learn more about Portrait of a Digital Weapon.
---
"Kristine Is Not Well," Seeyam
3rd Prize: $3,500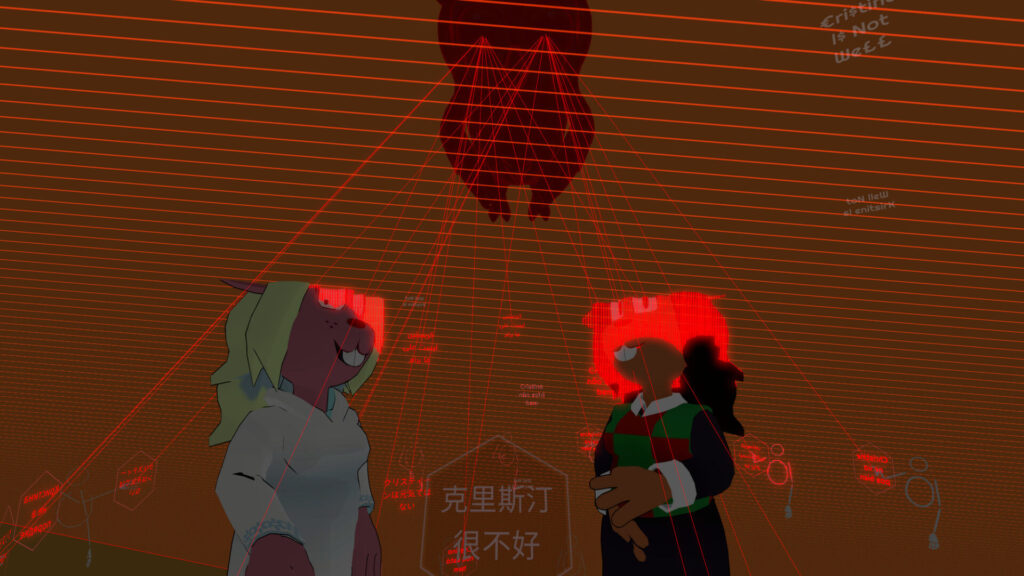 Internet activism plays a critical part in modern society, but it often does not get enough attention and is not accurately represented. Digital protests are mostly portrayed in the news in the form of a few isolated screenshots, but cyber activism is incredibly multi-dimensional and involves strong community collaboration.
Seeyam's Kristine Is Not Well is an animated social media simulation that visualizes how internet users protest against algorithmic surveillance and censorship with interactive and spatial metaphors in virtual reality (VR). Based on real online protests and existing anti-censorship practices used by online activists, the project uses immersive technology to allow users to more deeply connect and experience the dimensionality of geopolitical social movements.
Kristine Is Not Well begs the question of how we define cybersecurity in a quickly evolving digital age, and how the amplification of one's voice and social issues can be protected within dynamic online spaces and technologies. By using VR to transform the two-dimensional social media interface into an embodied experience, the project aims to show users the dimensionality of online protests, and show other artists the possibility of using VR as a medium to better visualize cyber activities.
Learn more about Kristine Is Not Well.
---
CLTC would like to thank our interdisciplinary committee for their time and thoughtful consideration in judging this year's arts contest submissions.
Mayola Charles (Lead, Social Impact Creator Partnerships, Meta),
Martin Rauchbauer (Executive Director, Djerassi Resident Artists Program & Founder, Tech Diplomacy Network), and
Allison Young (Assistant Professor of Art History, Louisiana State University).