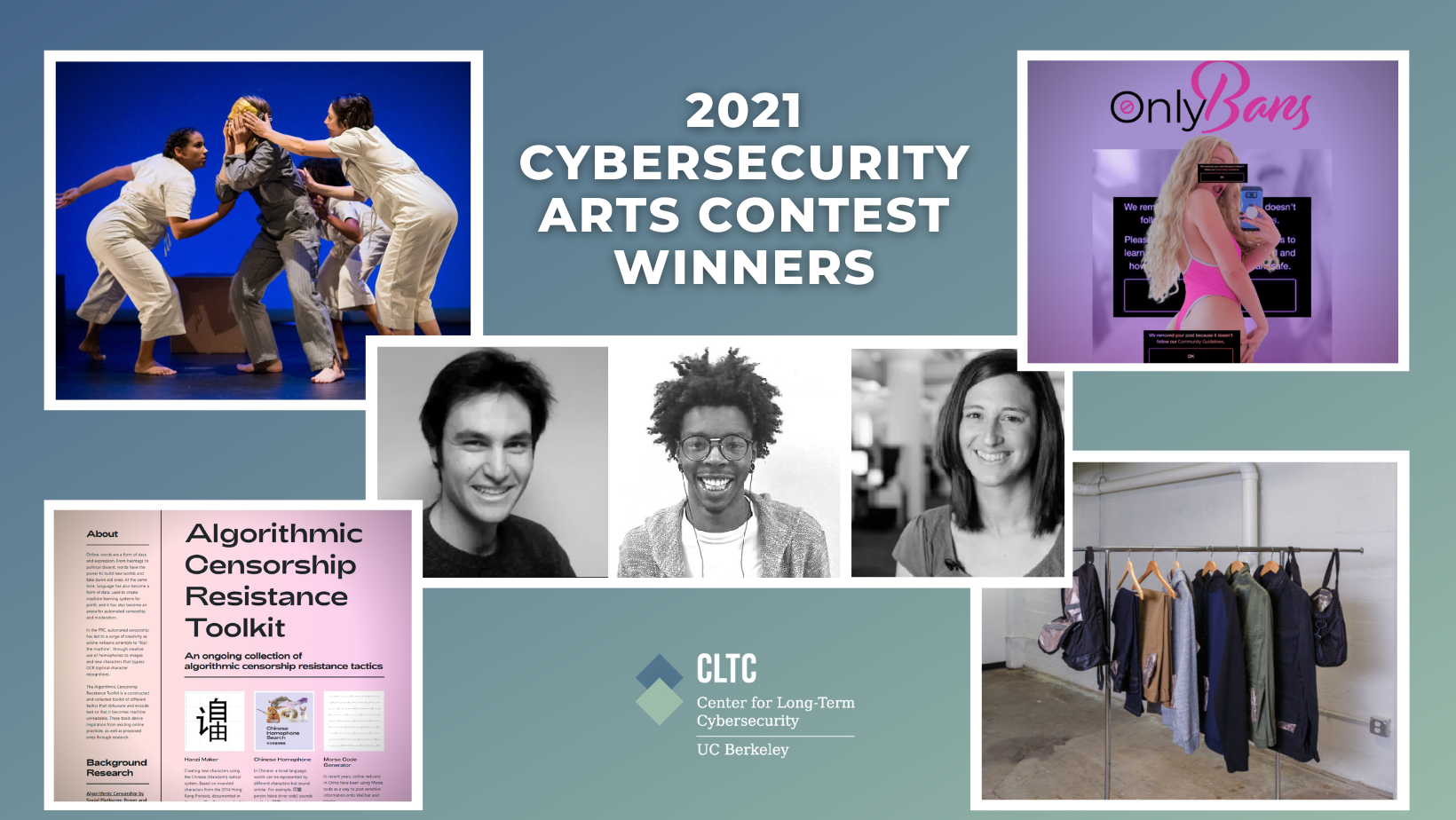 The Center for Long-Term Cybersecurity (CLTC) is proud to announce the winners of our 2021 Cybersecurity Arts Contest. The five winning projects span a range of creative concepts, from a dance performance that integrates emotion-sensing masks, to a web-based game that illuminates online discrimination against sex workers. The artists will receive funding ranging between $1,000 and $12,000 to pursue their projects, which will be presented to the public once completed.
Developed through CLTC's Daylight Security Research Lab, the Cybersecurity Arts Contest aims to advance the dialogue around cybersecurity beyond tired tropes like the "hacker in the hoodie," and to expand and refine representations and portrayals of cybersecurity, broadly defined. The contest seeks to answer such questions as: who participates in digital security? Who is responsible for digital security? Whom does security affect? 
"Cybersecurity touches almost everyone," says Nick Merrill, a postdoctoral fellow at CLTC and Director of the Daylight Security Research Lab. "But who feels like they have a meaningful say? Who feels they can get involved? The goal of this Arts Contest is to foster inclusion in security by expanding the way security is represented, and I think this crop of artists is really well-positioned to reach a diverse audience."
This year's five winning proposals were selected by an interdisciplinary committee and judged for artistic merit, relevance, feasibility, and potential impact, including how they might influence other artists or reach particular audiences. This year marks the second Cybersecurity Arts Contest; the first contest's winners were announced in 2019, and some of these initial projects were featured in a series of CLTC panel discussions that brought together members of the cybersecurity research community with the arts community.
Below are descriptions of this year's winning projects, adapted from the artists' proposals.
Community Emotional Light Sound Organism (CELSO)
Driven Arts Collective, a group of San Francisco Bay Area-based artists, dancers, musicians, and engineers, will present "Community Emotional Light Sound Organism," or CELSO, in which dancers will wear biosensing masks and transmit their emotional data during live performances.
Biosensing technologies are increasingly used by neuromarketers, governments, and security contractors to make normative judgments about people's physical fitness and mental health through the categorization of physiological data into emotional schema. Miscatergorization of this data presents cybersecurity risks: people may be unfairly tagged as mentally unwell, physically unfit, or unproductive. All too often, there is a lack of respect for the privacy and agency of the individuals and communities whose lives are surveilled, analyzed, and judged through these biosensing technologies. These cybersecurity risks are only amplified by a lack of an adequate feedback process between developers and deployers of these technologies and the communities they claim to serve.
In CELSO, dancers wear Experimental Wearable Emotion Sensing Instruments (EWESI): masks designed to sense physiological responses associated with emotions. The design will keep visual emotional cues private while still allowing expression and agency for the individuals involved. The EWESI design will include facial electromyography, electrocardiography, and electroencephalography.
Rather than quantify and categorize these physiological responses into set emotional states, the EWESI masks will transfer the stream of emotional data from the community of dancers into an immersive physical architecture composed of sound and light. The group of dancers' emotions become intertwined within this physical architecture and act as an independent sound and light generating organism, creating a feedback loop that both informs the dance, music, and environment while facilitating emotional reflection and insight for audience and performers alike.
Throughout the process, each dancer works with the development team to decide how the emotional data transmitted from their EWESI will be represented within the larger CELSO organism. This direct feedback process allows each dancer to have agency within the community organism and decide the degree of privacy they wish to maintain in how their emotions are represented.
CELSO seeks to raise awareness about the use of emotional data surveillance in public, and the potential cybersecurity risks for people who are miscategorized or othered. The project will engage audiences through an artistic, speculative process in which biosensing technology is used to encourage emotional reflection and insight for communities and individuals.
Cyber Cipher: Training Black Cybersecurity Psychosocial Designers
As companies and nation-states increasingly rank and privilege their employees or citizens based on their behavior, certain locations and groups become marginalized and stigmatized. "Cyber Cipher: Training Black Cybersecurity Psychosocial Designers" aims to address the tension between social credit rating systems and software-as-a-service resulting in inherent AI-based discrimination.
The project will be led by a team of three artists affiliated with an initiative called AWED – Alan Waxman Social Design: Alan Waxman, a PhD student in Landscape Architecture and Environmental Planning at UC Berkeley; Tameel Marshall, a poet and chef in Brooklyn who curates psychological environments through music, word, and fashion; and Callie Wheeler, a user experience-centered product manager who focuses on social and interactive experiences.
The organizers will host online gatherings that they call "ciphers," producing poetry and images (memes) to critique trends of discrimination inherent in social credit ratings. They will distribute this media in place-based interventions, culminating in an exhibition with the Center for Long-Term Cybersecurity. Black information science, a data science tradition historically led by the Black diaspora as a critical counterpoint to the mainstream, will serve as a means by which to interrogate images produced by social credit brands and global streaming music services.
Locations of the interventions will be selected by geospatial data integration, evaluating trends to identify edge areas where AI offers users greatest social credit value flux. These are areas where particular social credit systems are most likely to be embodied. Here, users are much more, or much less likely to have their user-created content featured in streaming services, and may be charged more, or less for streaming services. Physical postcards will be mailed to key neighborhood clusters with links to more online media, engaging residents.
The project has a variety of goals, including to help CLTC deepen its connection with the history and practice of Black data science; to connect CLTC with Black data scientists and psychosocial designers through a series of cipher data integration events; and to work collaboratively to affect structural discrimination created by social credit rating systems.
ONLYBANS
The internet has long been celebrated as a limitless realm of free expression, but this digital wonderland is becoming increasingly oppressive to those who express their sexuality as part of their art or work. Created by sex workers and allies, OnlyBans is an interactive game that critically examines the policing of marginalized bodies and sexual labor to empathetically teach people about digital surveillance and discrimination faced by sex workers.
Assuming the role of a sex worker, players attempt to establish an online fanbase and earn money through posting sexy images. Players encounter content moderation algorithms, shadow-banning, "real name" policies, facial recognition software, and other threats based on actual experiences of sex workers. As the player attempts to evade being censored by Instagram, flagged by Paypal, and watched by Microsoft, the game reveals just how "free" the internet really is when you are engaged in stigmatized labor subject to policing and criminalization.
Inspired by the aesthetics of everyday digital platforms and devices, OnlyBans features images contributed from actual sex workers and erotic content producers who have been directly flagged, censored, and surveilled. The game offers a speculative vision of how marginalized communities might band together to protest these policies and create better alternatives.
The game prototype was initially developed by artist Lena Chen with Open Data Institute's Violeta Mezeklieva through a residency with Polis 180 (Berlin). As artists-in-residence at Kelly Strayhorn Theater (Pittsburgh), Lena and a team of Carnegie Mellon University alumni revamped  the gameplay and visual design. With the CLTC Arts Contest funding, the artists aim to produce sound, shoot new video, improve accessibility, expand narration,  and include more contributors  to reflect the full diversity of experiences.
Resistant Systems
Founded by artist Tim Schwartz, Resistant Systems is a digital-focused wellness lifestyle brand that originated in Los Angeles. This clothing line includes organic, hand-woven signal-blocking hoodies for dropping off the grid, patterns for hand-stitched scarves that obfuscate facial detection, cleansing kits for passwords and social media, encrypted USB necklaces housed in shungite crystals, and hand-created operating systems ready to rebirth desktops into anonymous research stations.
Their products "allow you to purify your digital life – not just your body and spirit," according to the proposal, a process for which Schwartz has "developed a number of rituals for this, including cleanses, gatherings, and a variety of healing modalities." In the one-on-one Password Cleanse, participants renew their security habits using the Resistant Systems Word Book and dice, using wax to seal their newly memorized password. During a Social Media Group Detox, participants are guided through the process of backing up and removing their residual social media accounts, manifesting a new connection to the world. Through our Cryo Credit Freeze journey, participants will be guided through the process of freezing their credit, emerging with a true feeling of security in their financial identities.
The project also includes the Manual of Digital Resistance, which describes safe ways to gather information, secure, and communicate sensitive information. This book can be bought by itself or in a bundle with the rest of items in the Digital Resistance Kit, these include secure devices, cash, encrypted drives, anonymous software, burner phones, and untraceable Zcash.
Funding from the CLTC Arts Contest will be used to present pop-up shops and interventions, including the dissemination of the Manual of Digital Resistance on the streets of Washington D.C. in the fall of 2022. Resistant Systems has been shown in 2019 (pre-pandemic) at Muted Horn in Cleveland, OH and at Actual Size Gallery in 2020 in Los Angeles. Workshops and performances included in Resistant Systems have been prototyped with other members of LA Cryptoparty and at various institutions including: Museum of Contemporary Art Tucson, Machine Project in Los Angeles, ICP Museum in NYC, and BMoCA in Boulder.
The Future of Memory
Censorship has always been a key tool for the powerful. And in an era of AI, automation has made censorship even more potent: algorithms can increasingly police what people share online. In this new environment, it's difficult to organize, to advocate, to dissent, or even to catalogue what citizens are truly thinking and feeling. Automated censors can dictate what gets remembered — and what gets forgotten. How can internet users reclaim agency?
This is the central idea behind The Future of Memory, by artists Qianqian Ye and Xiaowei Wang, a series of browser-based games, playful and artistic tools, and public workshops that teach internet users how to outsmart censors and build "machine resistant" communications. The Future of Memory exams the fact that language online has become the medium in which expression and activism arise in the US, in China, and globally. The goal of the project is to help people understand the current state of automated censorship and come up with creative ways to bypass the systems like OCR (optical character recognition).
The project will examine recent developments in internet policy, using examples from extremely heavily censored environments like mainland China, and from corporate surveillance for targeted advertising used worldwide. The artists will also use the tools in their previous work, the Algorithmic Censorship Resistance Toolkit, a compilation of different tactics that obfuscate and encode text so that it becomes machine unreadable.
The new hybrid characters, a mash of multiple languages, just as diasporic as their creators, will escape classification and recognition by automated systems. "We see these characters as a form of visual poetry," they write. "It lays the foundations for a future of change, a bridge across our fears of what has never been before. What words will we be left with to describe the past? What words will build our future? What is the new vocabulary we need for different kinds of revolution?"
The current iteration of the project is supported by Mozilla's Creative Media Award and showcased on Mozilla's website. The project is shaped around public workshops and easily accessible online games and tools that anyone can use. In the choose-your-own-adventure game, users play as a moderation engineer at a fictional tech company tasked with censoring content. Along the way, users work in content moderation and make decisions about automation. By the end of the game, users understand how automated content moderation is one piece of the larger issue of centralized corporate platforms having power over discourse.
The artists will also develop community partnerships and convene regular online and in-person workshops to disseminate these tools directly to those who need them most, including teaching artists and audiences who are severely under-represented in the professional tech and media arts sphere.