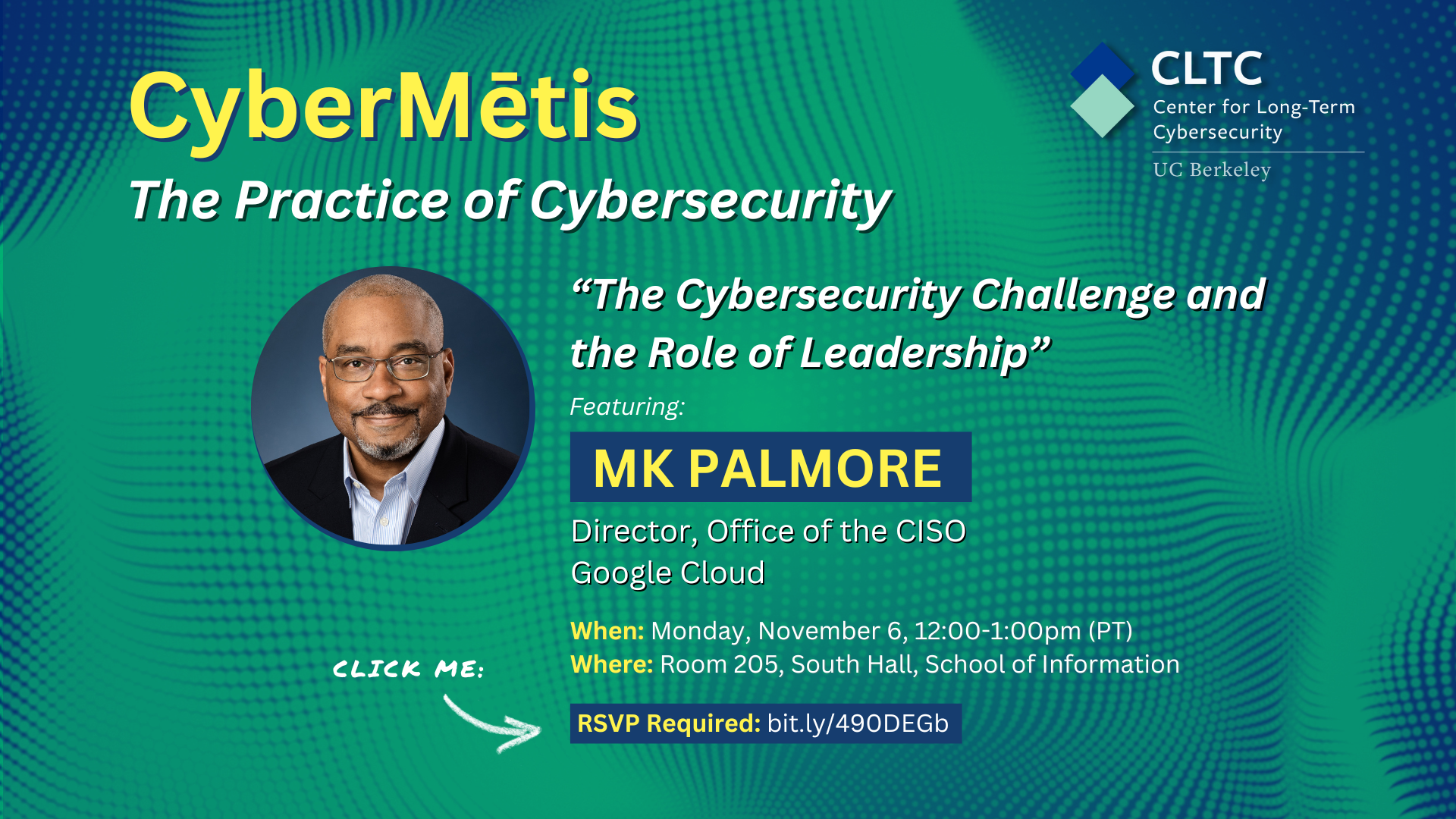 Join us on Monday, November 6 for the final seminar in the Fall 2023 CyberMētis Speaker Series featuring MK Palmore, Director of the Office of the CISO at Google Cloud.
Cybersecurity is one of the most pressing global challenges of our time. As the world becomes increasingly digitized, the stakes have never been higher. Leaders play a critical role in helping organizations to navigate this complex and ever-changing landscape.
This talk will discuss the role of leadership in helping to solve the global cybersecurity challenge. It will emphasize the balance of technical expertise and the capability of motivating diverse teams to help solve challenges. The principles of leadership include an ability to communicate effectively, inspire teams, create an environment where blameless discussion can occur (allowing team members to learn from failure), and the need to lead from wherever you are in the team structure.
Technical expertise is essential for cybersecurity leaders to understand the threats that organizations face and to develop effective mitigation strategies. However, technical expertise alone is not enough. Leaders must also be able to communicate effectively with both technical and non-technical audiences, and to motivate diverse teams to work together to achieve common goals.
Motivating diverse teams is essential for success in cybersecurity. A diverse team brings a wider range of perspectives and skills to the table, which can help to identify and address threats more effectively. However, it is important to create an environment where everyone feels valued and respected, and where everyone has a voice. Leaders must also be able to foster collaboration and teamwork, and to resolve conflict constructively.
Principles of leadership that are essential for cybersecurity leaders include:
Communication: Leaders must be able to communicate effectively with both technical and non-technical audiences. They must be able to explain complex concepts in a clear and concise way, and they must be able to listen to and understand the concerns of others.
Inspiration: Leaders must be able to inspire their teams to work towards common goals. They must be able to create a positive and supportive work environment, and they must be able to recognize and reward individual and team achievements.
Blameless discussion: Leaders must create an environment where team members feel comfortable discussing their mistakes and learning from them. This is essential for continuous improvement and innovation in cybersecurity.
Leadership from anywhere: Leaders do not need to be the most technical expert on the team to be effective. However, they must be able to lead and motivate the team, and to ensure that everyone is working towards the same goals.
This talk will provide practical advice on how cybersecurity leaders can balance technical expertise and team motivation, and how they can apply the principles of effective leadership to help their organizations solve the global cybersecurity challenge.
This seminar series is open to UC Berkeley graduate and undergraduate students, researchers, and faculty members only. Light refreshments will be provided.
RSVPs required: https://forms.gle/BH8e2WaiKdRxRbhN6
MK Palmore currently serves as Director, Office of the CISO, for Google Cloud. His responsibilities include support of strategic customers engaged in a digital transformation journey. Prior to joining Google Cloud, MK served as the Field Chief Security Officer (Americas) for Palo Alto Networks. MK spent an extensive career in the U.S. Federal Government prior to entering the private sector. In a 22-year career in the Federal Bureau of Investigation (FBI), MK provided leadership and conducted investigations in a number of areas including Cybersecurity, Crisis Response/Management, Risk Management Advisory, and Counter-Terrorism. MK's cybersecurity certifications include the CISM, CISSP, GCCC and the Carnegie Mellon University CISO Certification. He earned a B.S. from the United States Naval Academy and an MBA from Pepperdine University. MK began his professional career as a commissioned officer in the U.S. Marine Corps.
——-
Accessibility Accommodations
If you require an accommodation for effective communication (ASL interpreting, CART captioning, alternative media formats, etc.) or information about mobility access in order to fully participate in this event, please contact Rachel Wesen at rachelwesen@berkeley.edu with as much advance notice as possible and at least 7–10 days in advance of the event.
Share Event