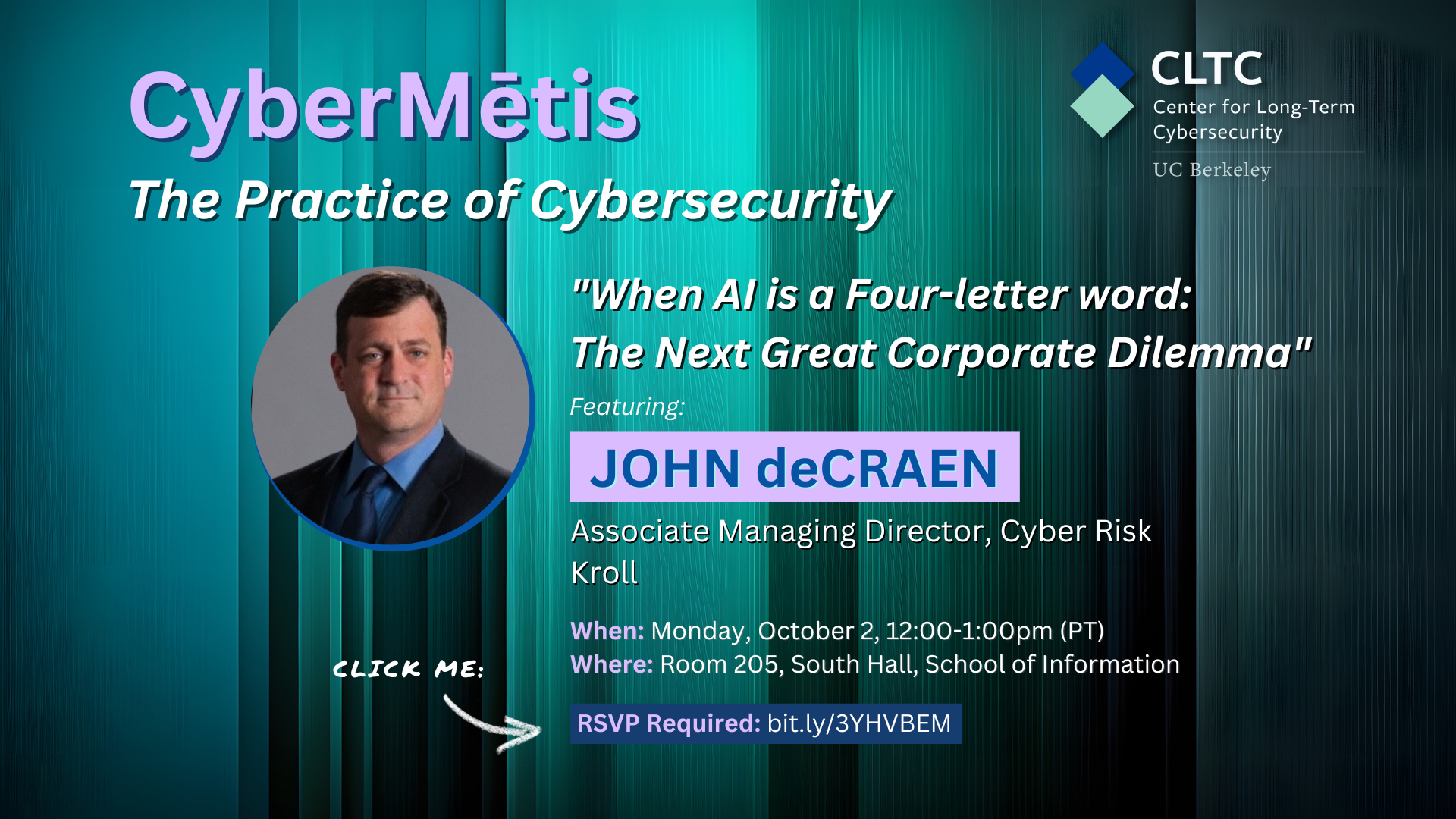 Join us on Monday, October 2 for the second seminar in the Fall 2023 CyberMētis Speaker Series featuring John deCraen, Associate Managing Director of Cyber Risk at Kroll.
Artificial Intelligence and the ever-growing stable of tools that allow us to interact with it have become seemingly ubiquitous overnight. They are accessible in every way we interact with digital life, both at home and at work. Corporations are faced with difficult ethical, security, operational and competitive decisions on how to manage their organizations and the people and technology they rely on. The security and privacy issues are complex and the solutions may be even more so. All aspects of corporate operations have been impacted and now we'll have to check our well-adjusted culture, governance, risk and compliance activities as well as our tool stack at the door.
This seminar series is open to UC Berkeley graduate and undergraduate students, researchers, and faculty members only. Light refreshments will be provided.
RSVPs required: https://forms.gle/WRsSyHtBqgg6YLau8
John deCraen is an Associate Managing Director in the Cyber Risk practice of Kroll, based in Dallas. He has over two decades of experience working with Global Fortune 500 businesses and AmLaw 100 law firms, delivering high-profile enterprise-class solutions enhanced with strategic and technical cyber security program leadership and guidance. He specializes in digital forensics, incident response, information security risk and compliance assessment matters that demand investigative and analytical thinking.
Prior to joining Kroll, John was a Senior Director with Alvarez & Marsal's Global Cyber Risk Services practice in Dallas. He was the original member of the firm's Global Cyber Risk Services practice, where he was heavily involved in developing the culture, systems design, standard procedures and talent management throughout its 16-year history. He was also the lead architect and implementor of the firm's data centers, systems and processes responsible for managing all the litigation support efforts for the world's two largest bankruptcies, simultaneously. These systems ultimately processed many petabytes of data and hosted data for more than 700 high-profile legal cases.
Previously, John has also led and substantially contributed to many digital forensics and cyber security investigations worldwide, which includes representing a state insurance commissioner and a U.S. regulatory body on a comprehensive and global examination of the world's largest insurance company's cyber security and privacy programs. Further, he also designed and built a real-time end-point vulnerability and risk scoring system for a leading national ONG pipeline management company.
John also has extensive experience in the strategy and architecture of complex computing environments that include infrastructure design, entitlement programs, policy development, standards implementation and risk management frameworks. He is particularly strong in the area of cyber risk assessment having assisted multiple clients in determining their alignment with NY-DFS, HIPAA/HiTrust, DFARS, GDPR, FFIEC, and a range of maturity and risk models. He also has expertise in one-on-one and panel-on-one interview and evidence collection.
——-
Accessibility Accommodations
If you require an accommodation for effective communication (ASL interpreting, CART captioning, alternative media formats, etc.) or information about mobility access in order to fully participate in this event, please contact Rachel Wesen at rachelwesen@berkeley.edu with as much advance notice as possible and at least 7–10 days in advance of the event.
Share Event
Topics