Cyber Defending Taiwan:
Lessons from Ukraine
Date: Friday, September 29, 2023
Time: 10:00am to 3:00pm (PT)
Location: Great Hall, Bancroft Hotel, 2680 Bancroft Way, Berkeley, CA
Host: UC Berkeley Center for Long-Term Cybersecurity

Deepening Taiwan's defense and resilience in the cyber domain is key to advancing diplomatic solutions to the rising geopolitical tensions with China in the region.
This one-day conference engaging private, public, and academic leaders will focus on increasing the resilience of Taiwan to threats and vulnerabilities in the cyber domain and beyond. In the process, the workshop engages with the lessons learned from recent history—drawing on the recent Russian invasion of Ukraine.
Co-sponsored by:
Featuring
10:00 – 10:05am – Welcome and Introductory Remarks

Agenda
10:05 – 11:15am – Session 1: Cyberattacks in the Ukrainian Invasion
Looking back at the February 2022 Russian invasion of Ukraine and previous Russian cyberattacks, this session will explore what kinds of signposts might exist before aggression against Taiwan.
Confirmed Panelists:

11:15am – 12:15pm – Session 2: The Taiwan Context
This session transitions to the Taiwan security context to better understand its posture with China as a competitor. What are the characteristics of Taiwan's internet infrastructure and how might it resist physical or logical cyberattack? How has the larger technology competition strategy between the US and China affected Taiwan? How might China's prowess in outer space affected its cyber posture with regard to Taiwan?
Confirmed Panelists:

12:30 – 1:00pm – Lunch Keynote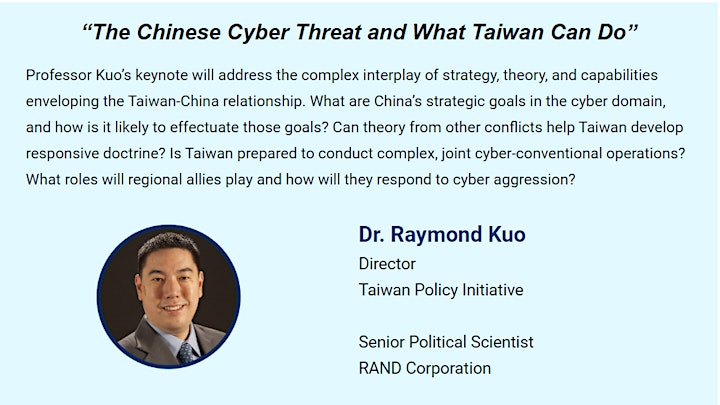 1:25 – 2:25pm – Session 3: Securing Freedom for Taiwan
Private ownership of internet infrastructure makes corporations key partners in security. This forward-looking session analyzes what the public and private sector should be doing now and in the next 2­–3 years to secure Taiwan.
Confirmed Panelists:
Ritwik Gupta – Deputy Technical Director for Autonomy, Defense Innovation Unit
Hung-dah Su – Dean, College of Social Sciences; Professor, Department of Political Science, National Taiwan University
Tim Mather – Partner and vCISO, Fortium Partners
Janet Napolitano – Director, Center for Security in Politics; Professor, UC Berkeley Goldman School of Public Policy

2:30 – 3:00pm – Closing Keynote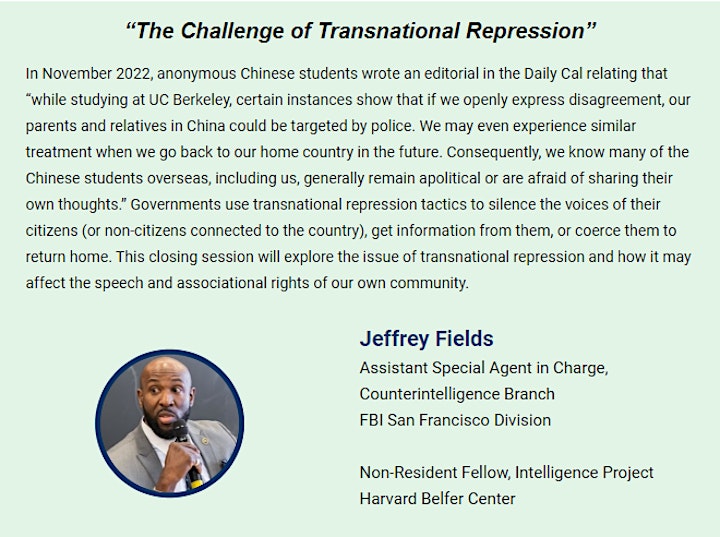 Selected literature:
Accessibility Accommodations
If you require an accommodation for effective communication (ASL interpreting, CART captioning, alternative media formats, etc.) or information about mobility access in order to fully participate in this event, please contact Rachel Wesen at cltcevents@berkeley.edu with as much advance notice as possible and at least 7–10 days in advance of the event.
Share Event
Topics