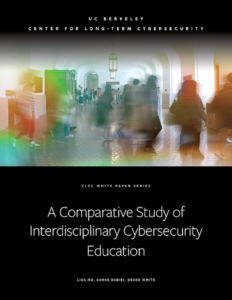 A team of researchers from the UC Berkeley School of Information have published a new report examining how different universities approach the challenge of teaching cybersecurity through an interdisciplinary lens, with a goal to guide other educational institutions as they develop and create their cybersecurity programs.
The report, A Comparative Study of Interdisciplinary Cybersecurity Education, is based on analysis of publicly available information from about 17 interdisciplinary cybersecurity degree programs, as well as focus groups with representatives from the programs studied. The authors examined a range of programs, including dual-degree programs and curriculum requirements that span multiple schools and disciplines, as well as programs designed to foster cross-disciplinary thinking and develop student competency in both technical and policy-oriented domains. Universities included in the study included Brown, Carnegie Mellon, Columbia, Florida International, George Mason, Georgia Institute of Technology, Indiana, Johns Hopkins, NYU, Penn State, Stanford, Tufts, UC Berkeley, and the University of Texas, Austin.
The researchers — Lisa Ho, Project Lead, Academic Director of the Masters in Information and Cybersecurity (MICS) program in the UC Berkeley School of Information. Sahar Rabiei, Lead Researcher, a student in the MICS program; and Drake White, Researcher, a student in the Masters in Information Management and Systems (MIMS) program in the School of Information — also drew on their own experience.
"This report is intended as a guiding document for educational institutions interested in creating new cybersecurity programs, or improving existing ones to cultivate interdisciplinary and policy-fluent cybersecurity expertise for advancing systemic cybersecurity reform," the authors wrote. "In this study, we offer a cross-sectional view of a handful of interdisciplinary cybersecurity degree programs in the U.S. In presenting this slice of the landscape, we hope to stimulate development and growth of programs designed to advance holistic cybersecurity expertise to bridge the variety of technical and human domains needed to actualize comprehensive cybersecurity solutions."
The researchers focused on masters programs offered by grantees of the Hewlett Foundation, which has been a leader in promoting cybersecurity education and building a diverse pipeline of cyber professionals through its Cyber Initiative. "This study employs Hewlett's broad definition of cyber policy in recognition of the breadth of policy issues that impact cybersecurity and the need for cybersecurity policy experts to be 'at the table' and well-informed during the broadest array of technology discussions," the authors wrote.
The study revealed a variety of important insights for university leaders to consider as they create or evolve their interdisciplinary cybersecurity programs, including the importance of bridging technical and policy approaches; the value of teaching computer programming through a security lens; and the value of hands-on learning opportunities, such as capstone projects, practicum courses, internships, and cybersecurity clinics. The paper also stresses the value of teaching students to apply foundational concepts to contemporary challenges, and of further integrating policy in cybersecurity curriculum frameworks.
Topics