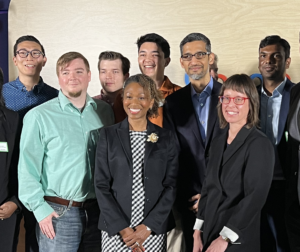 The Center for Long-Term Cybersecurity (CLTC) has received a $2.2 million grant as part of the Google Cybersecurity Clinics Fund, a multi-million dollar initiative launched by Google.org to expand the Consortium of Cybersecurity Clinics. The Google Cybersecurity Clinics Fund aims to help improve the cyber defenses of critical public infrastructure while growing a diverse cybersecurity workforce trained in real-world cyber defense strategies.
Similar to clinics in medicine and law, cybersecurity clinics train university students to provide pro bono digital security assistance to critical public infrastructure organizations with limited resources, including non-profits, hospitals, local governments, small businesses, and other clients. Cybersecurity clinics fulfill an important role, as they provide students with hands-on experience and build a diverse pipeline of cybersecurity professionals, while also helping organizations in their communities defend themselves against ransomware, hate groups, and other cyber attacks.
Led by the Center for Long-Term Cybersecurity, UC Berkeley launched its cybersecurity clinic, Citizen Clinic, in the School of Information in 2018. UC Berkeley and the Massachusetts Institute of Technology (MIT) pioneered the cybersecurity clinic model, and together with Indiana University and the University of Alabama, spearheaded the creation of the Consortium of Cybersecurity Clinics in 2021 as a network of clinics and allies dedicated to sharing resources and best practices. As part of Google's investment in cybersecurity clinics, UC Berkeley has received a $2.2M grant to support the Consortium's efforts, including growing its membership, engaging with minority-serving institutions and community colleges, mentoring new clinics, sharing teaching resources, and conducting research across the network of clinics to better serve the public interest.
Carol Christ, UC Berkeley's Chancellor, lauded the initiative. "We welcome and celebrate Google's multi-million dollar investment in the cybersecurity clinic model that Berkeley helped pioneer, and in our university's ongoing work to build and lead the field of cybersecurity for the public good," Christ said.
Cybersecurity clinics are included as part of the Biden-Harris Administration's newly announced National Cyber Workforce and Education Strategy (NCWES), which encourages colleges, universities and state, local, tribal, and territorial governments "to increase the use of hands-on learning opportunities, such as cyber clinics and cyber ranges, to enable students to work directly with organizations in their communities and develop cyber skills in simulated environments."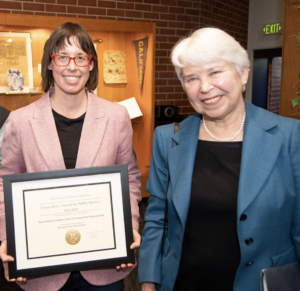 "Google's leadership in expanding the cybersecurity clinic model across the United States will be transformative," said Ann Cleaveland, Co-Chair of the Consortium and Executive Director of CLTC, which serves as the administrative home of the Consortium of Cybersecurity Clinics. "This dedicated investment in cybersecurity clinics is about civic engagement, hands-on cybersecurity training, propelling new talent into the profession, and defending public interest organizations. We're thrilled to be able to scale-up the clinic model that was pioneered by the teaching staff at UC Berkeley's Citizen Clinic and brought to the national level thanks to the co-leadership of MIT and other founding Consortium members."
"In an increasingly digital world, cyber attacks are proliferating as a threat to hospitals, schools, utilities, and municipalities responsible for critical urban infrastructure, yet many public agencies and non-profit organizations lack the resources to improve their defenses," said Professor Larry Susskind, Co-Chair of the Consortium and Director of the MIT Cybersecurity Clinic. "Cybersecurity is just as critical a function as IT and HR, and is needed in all major organizations in every state in the U.S. Google's generous commitment to support 20 cybersecurity clinics by 2025 will have a huge impact in helping public agencies fend off attackers and build a more inclusive, diverse, and highly skilled talent pipeline for the many critically important cybersecurity jobs of the future."
Founded in 2021, the Consortium of Cybersecurity Clinics serves as a forum for clinicians, trainers, students, and advocates to share knowledge, expand the reach of cybersecurity clinics, and lower the barriers for other institutions to establish their own clinics. Each consortium-affiliated clinic operates independently and focuses on unique audiences and service specialties. Every clinic has one or more faculty members who train students from cybersecurity, computer science, law, urban planning, public management, and other disciplines to provide a range of digital security services, which can include (but are not limited to) vulnerability and risk assessments, incident response planning, developing and implementing cybersecurity policies, ransomware training, and more.
Existing members of the Consortium with cybersecurity clinics include the University of Alabama; Columbia University; University of Georgia, Athens; Indiana University; Massachusetts Institute of Technology (MIT); University of Nevada, Las Vegas; Rochester Institute of Technology (RIT); Stillman College; the University of Texas at Austin; the University of Texas at San Antonio; and the University of California at Berkeley.
Google.org will issue an open call for proposals later this year inviting U.S-based universities, colleges, and community colleges to apply for start-up funding to establish new cybersecurity clinics. In addition, Google will provide students with mentorship opportunities, free access codes to complete the Grow with Google Career Certificate in Cybersecurity, and Google-branded Titan Security Keys, USB devices used for secure two-factor authentication.
Early supporters of the Consortium helped establish it as a national platform. These include the William and Flora Hewlett Foundation, Fidelity Charitable Trustees' Initiative, Public Interest Technology University Network (PIT-UN), New America and Craig Newmark Philanthropies' Cyber Civil Defense initiative.
"I became a fan and early supporter of the clinic model because it really helps people in need of cyber protections while also providing a new workforce of diverse talents and backgrounds with real-world cybersecurity experience," says Craig Newmark, founder of craigslist and Craig Newmark Philanthropies. "It's terrific to see Google's support helping to scale this transformative idea, and to expand the community of people investing in cyber civil defense."
Watch a video explaining the cybersecurity clinic model.