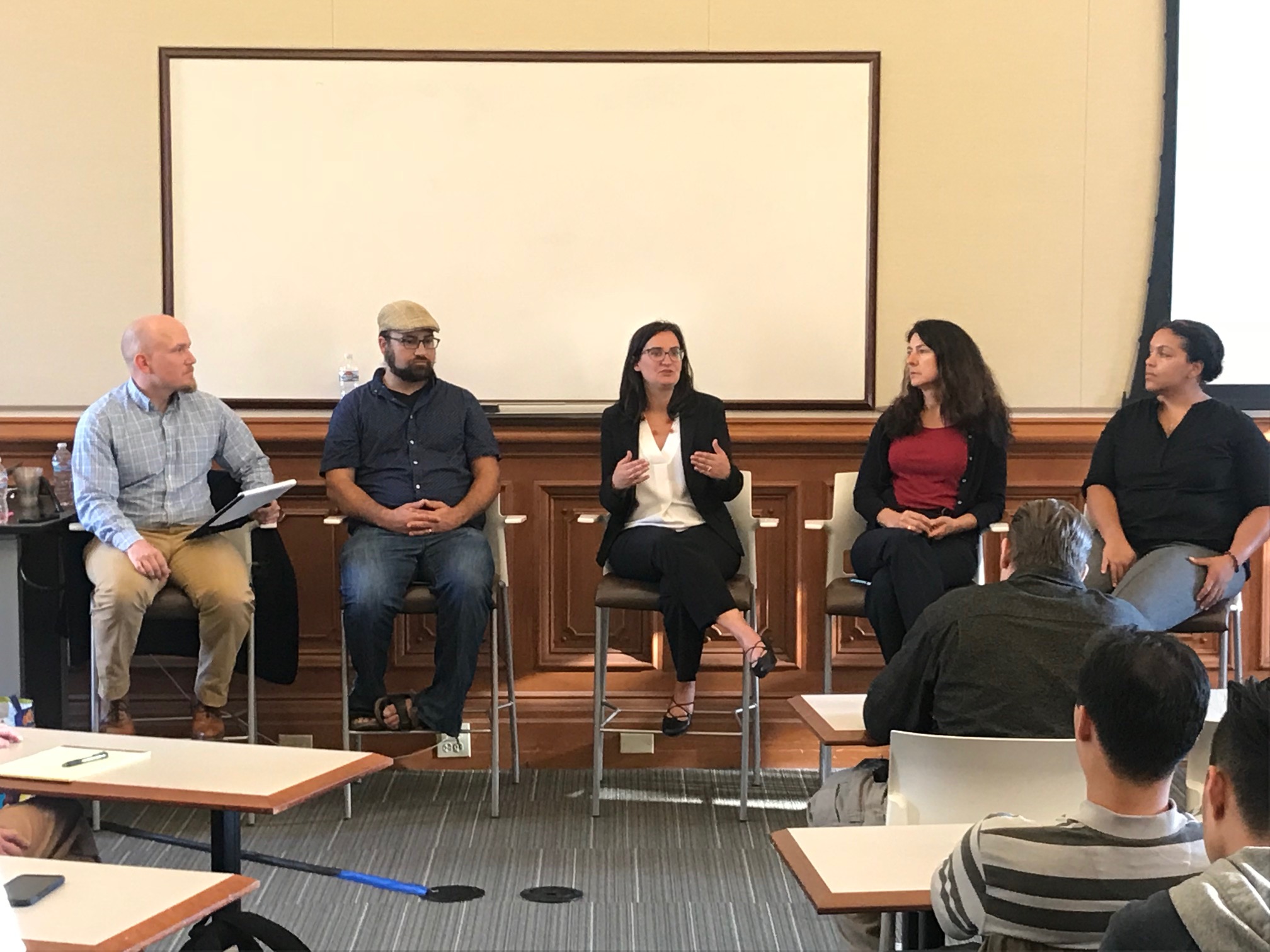 Over the past two decades, city and state governments across the U.S. have gained access to powerful surveillance technologies—including drones, license plate readers, police body cameras, and facial recognition software—that represent significant potential threats to the privacy of citizens.
On August 30, 2018, the Center for Long-Term Cybersecurity partnered with the Center for Technology, Society & Policy (CTSP) to present a panel discussion focused on what citizens can do to ensure that such technologies are used responsibly, with sufficient transparency and oversight.
Held at the UC Berkeley School of Information (I School), the panel was inspired by the work of the Oakland Privacy Advisory Commission (OPAC), a unique body spearheaded by citizens and commissioned by the Oakland City Council to assess the privacy implications of technologies used by the Oakland Police Department (OPD) and other city agencies. Last year, with support from a fellowship from CTSP, a team of students from the UC Berkeley School of Information collaborated with the OPAC to better understand how surveillance technologies are currently used throughout Oakland.
"This panel is set up to think about how to continue that sort of work, and how we can contribute to the progress they have made," said Daniel Griffin, Co-Director of the CTSP, in an introduction to the event. "It was a great example of students working together, identifying a problem gap, and applying a range of skills they had learned at the I School to the public good."
Prompted with questions from Steve Trush, a research fellow at the Center for Long-Term Cybersecurity (who was part of the CTSP team of I School students who collaborated with OPAC), the panelists considered a variety of questions related to the privacy threats that surveillance technologies represent—as well as what can be done to improve governance and oversight.
The panel featured Cyrus Farivar, a senior technology policy reporter at Ars Technica whose latest book, Habeas Data, explores how the growth of surveillance technology has outpaced our understanding of the ethics, mores, and laws of privacy. Habeas Data showcases legal cases over the last 50 years that have had an outsized impact on surveillance and privacy law in America.
The Oakland Privacy Advisory Commission is among the examples presented in Habeas Data as a positive model for effective oversight. "This is the only body in America at the city level that acts like a privacy watchdog for the city," Farivar said. "When the government considers anything that could impinge privacy, they have to present it to the Privacy Advisory Commission. They have a civil, thoughtful discussion. It would be great to see that in other cities."
Joining Farivar on the panel was Catherine Crump, Assistant Clinical Professor of Law and Director of the Samuelson Law, Technology & Public Policy Clinic, who described how local law enforcement agencies often acquire surveillance equipment through federal grants, without the awareness of city government leaders. "These technologies are game-changers, and they are getting acquired without anyone realizing that it's a policy decision," Crump said.
Deirdre K. Mulligan, Associate Professor in the I School and the faculty director of the Berkeley Center for Law & Technology, added that the adoption of surveillance technologies by local governments surged as a result of anti-terrorism initiatives that began after September 11, 2001. She explained that most cities simply saw these grants as a "land grab" (a way to acquire expensive equipment and systems for free), without considering the privacy implications for citizens.
"There has been a lack of attention to values other than security in thinking about the ways we deploy technology, particularly in public places," Mulligan said. "There's a lack of oversight as to where data is stored, where it flows, how it's used, and what secondary purposes it might be used for….  It's not that police shouldn't take advantage of technologies that keep us safe and free, but how does the public maintain oversight? OPAC and other commissions are important because they are closer to the ground and have a better understanding of how surveillance technologies are being deployed against communities."
"We all have a role to play," said panelist Camille Ochoa, who works with Electronic Frontier Alliance, a grassroots advocacy initiative launched by the Electronic Frontier Foundation (EFF). "Some people are equipped to be on an advisory commission, but for those who can't do that, can you educate your neighbors? Or maybe you can advise policymakers, who don't necessarily understand the impacts. A member of a city council may not realize what can happen with data."
Ochoa noted that the recent movement to establish sanctuary cities has renewed interest in how police use data and other surveillance tools. "There's been an awakening," Ochoa said. "People have realized, these things do affect me. How can I plug in, and where do we start? Something finally clicked where we realized that the people who live in these communities need to be tuned in, and decisions being made by police departments, city councils, and the federal government all very much affect us."
Ochoa explained that the Electronic Frontier Alliance is a network of organizations and individuals focused on digital rights, and that part of its mission is to help disseminate policies based on best practices. "That's where grassroots networks come into play," Ochoa said. "If it can happen in Oakland, it can happen in any city in America."