About this event
From ChatGPT, DALL-E, Bard, and Midjourney, the use of AI as a creative tool has increased dramatically both from technological breakthroughs and a flood of new users. Users and researchers have offered both praise and criticism – about the veracity of AI-generated art, race and gender bias engrained in these systems, and the exploitation of work from marginalized groups within training data.
Join three dynamic experts to expand on these themes and to facilitate discussions about generative AI and its effects at the intersections of race, art, and power.
Sessions will explore questions such as:
Who suffers most when it comes to the potential replacement of working artists and writers?
How is knowledge created through the use of generative AI? Whose work gets to be remembered?
Who speaks and who listens; who is at the table when it comes to conversations surrounding art and generative AI?
Is AI-generated art high-art or low-art? Can it be considered "art" at all? What can be considered creativity?
What does the future landscape look like for activism in the problem space of generative AI?
Co-sponsored by: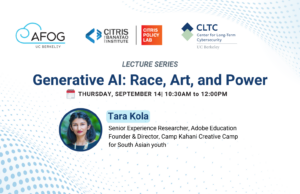 Tara Kola is a Senior Experience Researcher on the Adobe Design Research & Strategy team, leading research for Education. She specializes in conducting ethnographic and mixed methods research on child and adolescent creative activities, entertainment consumption, and narrative practices, inside and outside of classrooms. She supports content, design, and product teams in making research-driven decisions. Tara has experience conducting research and fieldwork across the US, India, and China. She is passionate about creative education, representation in media/entertainment, and building inclusive communities. She has a research background in anthropology and history. Outside of research, Tara runs a storytelling summer camp/afterschool program for South Asian youth called Camp Kahani.
Accessibility Accommodations
If you require an accommodation for effective communication (ASL interpreting, CART captioning, alternative media formats, etc.) or information about mobility access in order to fully participate in this event, please contact Rachel Wesen at cltcevents@berkeley.edu with as much advance notice as possible and at least 7–10 days in advance of the event.
Share Event
Topics