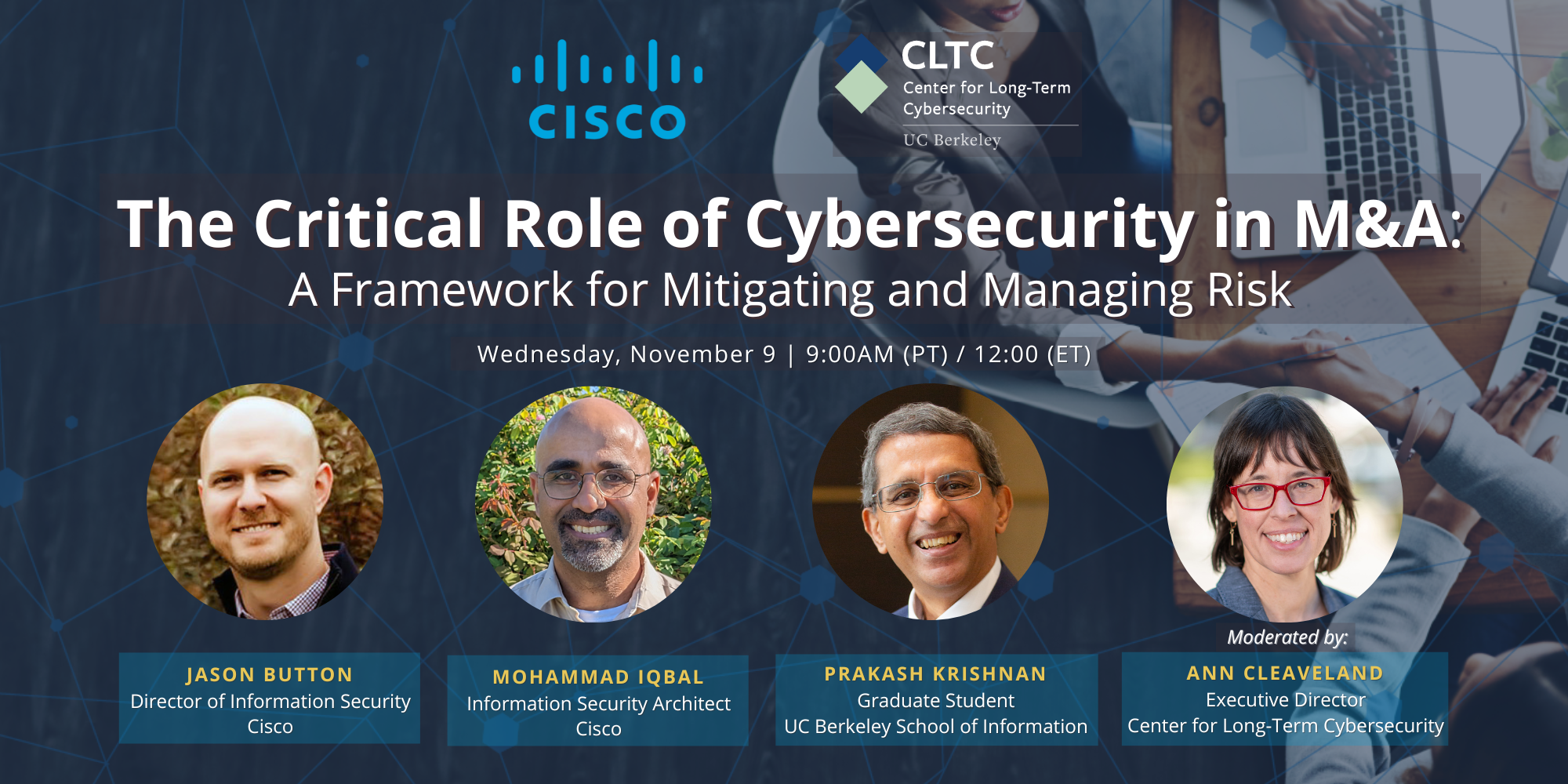 With the ever-increasing threat landscape impacting businesses globally, understanding cybersecurity risk has become an essential component of the mergers and acquisitions process. M&A decision-makers need to understand the potential cybersecurity risks of the company they are acquiring, which, left unchecked, could result in a series of negative consequences, including delayed deal close, diminished market value, or tarnished brand reputation.
On November 9, join the UC Berkeley Center for Long-Term Cybersecurity and Cisco for a webinar discussion about a new Cybersecurity M&A Model Framework designed to guide executives, cyber auditors, investing teams, and boards as they consider cybersecurity risk during the M&A process. The conversation will consider how  firms can tailor their approach to the cybersecurity audit process based on deal type, industry, and firm size. Panelists will share insights from developing and utilizing the framework, examples from experience on both sides of the M&A process, and discuss what challenges remain for the future.
———-
Speakers:
Jason Button – Director, Security and Trust Mergers and Acquisitions, Cisco
Jason Button is a Director at Cisco and leads the company's Security and Trust Mergers and Acquisitions (M&A) team. He was formerly the director of IT at Duo Security, a company Cisco acquired in 2018, making him uniquely positioned to lend his expertise to the M&A process.
Mohammad Iqbal – Information Security Architect, Cisco
Mohammad Iqbal is an Information Security Architect in the Cisco Security and Trust Mergers and Acquisitions (M&A) team. Mohammad has an extensive background in securing various enterprise related architectures across the cloud, mobile, and IT infrastructure. In his current role he leads detailed security assessments in M&A ensuring secure integration into the Cisco enterprise, upholding InfoSec policies and standards.
Prakash Krishnan – Affiliated Researcher, Center for Long-Term Cybersecurity
Prakash Krishnan is currently a full-time graduate student in the Master of Information and Data Science (MIDS) Program at the University of California, Berkeley's School of Information. Prakash holds an MBA in Marketing and a Master of Science in Industrial Engineering from the Ohio State University, Columbus, Ohio. Prakash brings rich business experience in M&As, corporate strategy, sales operations, and product marketing, having worked in leadership positions at Honeywell, Hewlett Packard, Cisco, and Juniper Networks
Moderator:
Ann Cleaveland – Executive Director, Center for Long-Term Cybersecurity
Ann Cleaveland is the Executive Director of the Center for Long-Term Cybersecurity, where she is responsible for growing key partnerships, managing day-to-day operations, and stewarding a strategy to fulfill the mission of CLTC's multidisciplinary research center. Her research interests include cybersecurity futures, digital risk communications, and governance of cyber risk. Cleaveland is a senior leader and business manager with experience in philanthropy, non-profit management, and industry. Prior to joining CLTC, she served as the Senior Director of Strategic Planning at the ClimateWorks Foundation.
———-
Accessibility accommodations
If you require an accommodation for effective communication (ASL interpreting, etc.) or information about mobility access in order to fully participate in this event, please contact Rachel Wesen at cltcevents@berkeley.edu(opens in a new tab) with as much advance notice as possible and at least 7–10 days in advance of the event.
Share Event
Topics