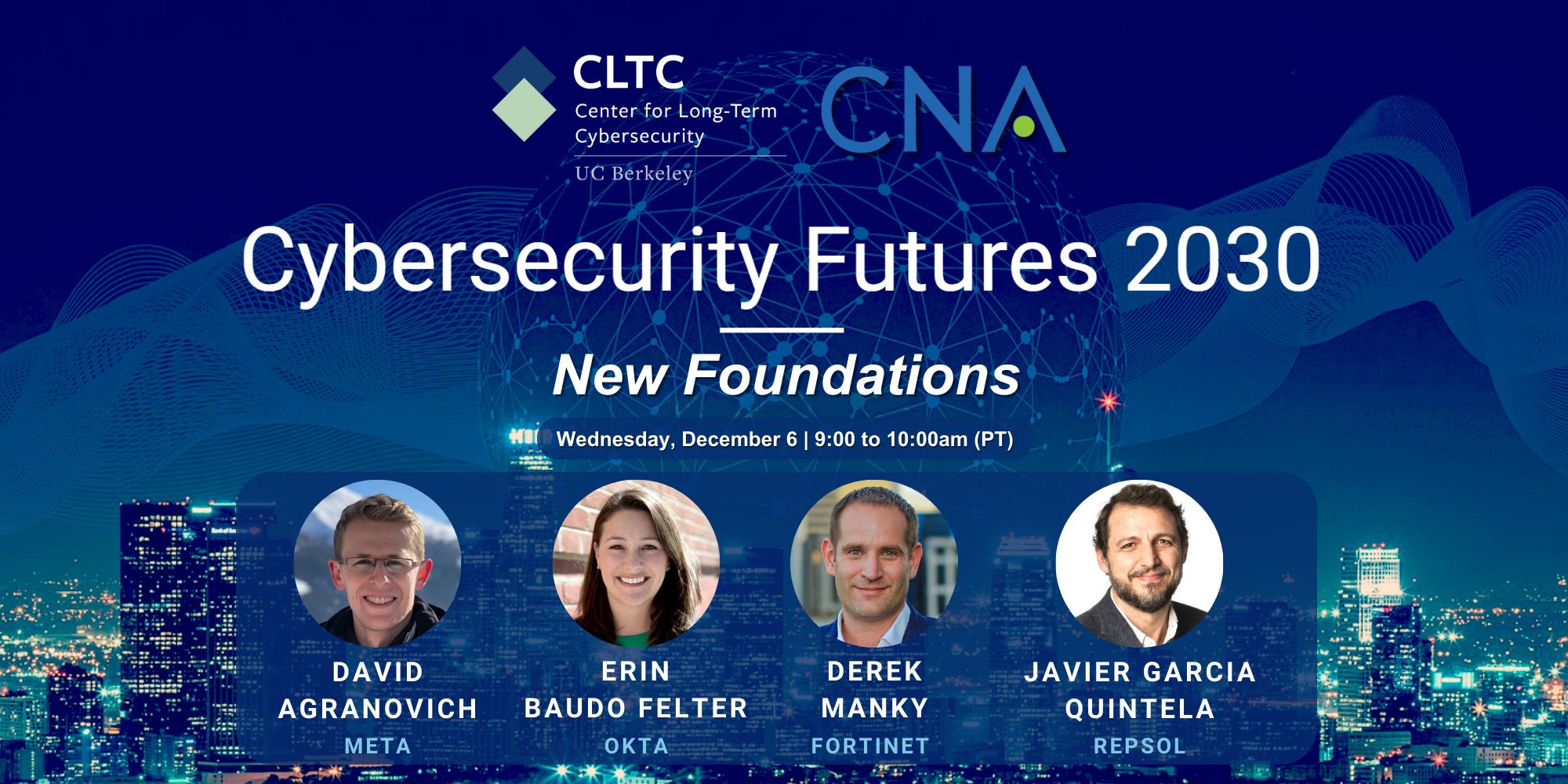 Join the UC Berkeley Center for Long-Term Cybersecurity (CLTC), CNA's Institute for Public Research (CNA), and the World Economic Forum Centre for Cybersecurity (C4C) for the public launch of Cybersecurity Futures 2030 to be held virtually on Wednesday, December 6, from 09:00 to 10:00am (PT).
The global cybersecurity landscape is constantly and rapidly changing – and by 2030, it will once again be radically transformed. To better understand how technological, political, economic, and environmental changes are impacting the future of cybersecurity for governments and organizations, CLTC, CNA, and C4C have collaborated on a foresight-focused research initiative that aims to inform cybersecurity strategic plans around the globe.
The product of this collaboration is a report, "Cybersecurity Futures 2030: New Foundations," that considers how cybersecurity is set to transform over the next five- to seven years. The report includes insights from six global workshops that aim to help decision-makers in government, industry, academia, and civil society seize opportunities, address challenges, and mitigate risks just over the horizon.
This webinar will include panel discussions with the report authors and key industry stakeholders sharing and discussing the implications of the reports findings, with opportunities for Q/A with the panelists.
Registration for this event is now closed.
——–
Featuring

David Agranovich is the Director of Global Threat Disruption at Meta, where he coordinates the disruption of influence operations, cyber espionage, and adversarial networks across the company. Prior to joining Meta, David served as Director for Intelligence at the White House National Security Council, where he led the United States government's efforts to address foreign interference in democratic systems and elections. He also served in a variety of senior roles at the Department of Defense, focused on Russian counterintelligence, organized crime, and corruption.

Erin Baudo Felter is the Vice President of Social Impact and Sustainability at Okta and is responsible for leveraging Okta's most important assets – its people, products and corporate resources – to create long-term value for people and the planet. Erin leads Okta for Good, the company's corporate social impact initiative, as well as the cross-functional effort to build and scale the ESG function at Okta. Her leadership includes Okta's climate strategy; nonprofit business; strategic philanthropy; employee and community engagement; and emerging human rights efforts.

Derek Manky leads FortiGuard Labs' Global Threat Intelligence Team at Fortinet, bringing over 20 years of cyber security experience. He has established frameworks in the security industry including responsible vulnerability disclosure, which has exercised the responsible reporting of over 1000 zero-day vulnerabilities. Manky has been with the Cyber Threat Alliance since it was founded in May 2014. For more than 15 years he has been highly engaged with collaborative industry efforts including the CTA, FIRST.org, NATO NICP, MITRE CTID, INTERPOL Expert Group, and the World Economic Forum Partnership Against Cybercrime (PAC). His vision is applied to help shape the future of proactive cyber security, with the ultimate goal to make a positive impact towards the global war on cybercrime.

Javier Garcia Quintela the Global CISO for Repsol, a global multi-energy company ranked #290 in the Global 2000, where he drives IT and OT cybersecurity strategy and leads the global cybersecurity organization. His forward-looking vision is to securely enable Repsol's digitalization and energy transition initiatives by transforming cybersecurity towards a cyber-resilience approach. Javier also serves as Vice Chair of the Cybersecurity Forum in the World Petroleum Congress and has contributed significantly to the World Economic Forum's initiative for Cyber Resilience in Oil & Gas. Prior to becoming CISO, Javier held a number of Director-level positions at Repsol including being responsible for IT Global Services & Operations, IT Architecture, IT Strategic Planning, and IT Purchasing. He previously worked in the IT consulting division at Arthur Andersen. Javier holds a degree in Communications Engineering with additional studies at IESE Business School and Harvard (Cybersecurity: Managing Risks in the Information Age).
Share Event
Topics