On April 29, UC Berkeley Chancellor Carol Christ recognized the Center for Long-Term Cybersecurity (CLTC) and its founding director, Steven Weber, with the 2021-2022 Chancellor's Award for Research in the Public Interest. The award recognizes "research that addresses critical issues affecting our local, state, national, or global communities."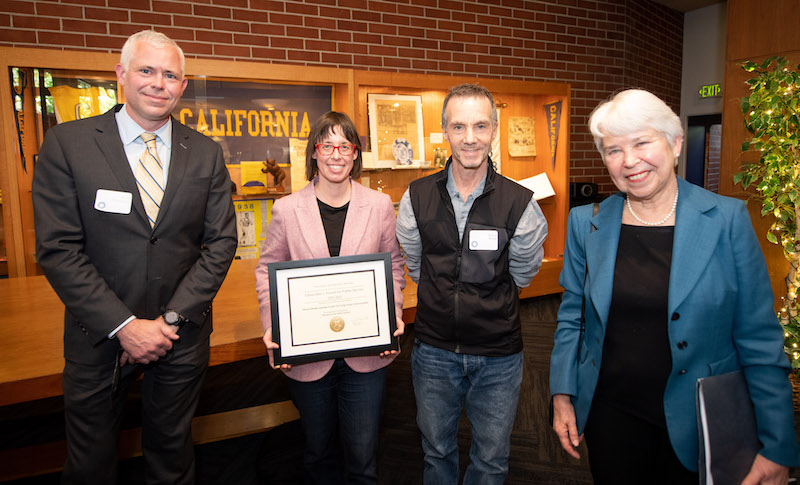 "Both Steve [Weber] and the CLTC have helped initiate national and global conversations about how cybersecurity can be understood, and how individual and collective decisions can be made to defend digital security," Christ said, in a ceremony held at Alumni House. "CLTC represents the next generation of leaders in industry, public interest, and cybersecurity research."
Weber, who recently retired as a professor at the UC Berkeley School of Information, accepted the award on behalf of CLTC, along with Executive Director Ann Cleaveland and Faculty Director Chris Hoofnagle. "This is what you dream of when you dream of a career at a public university that is committed to research and positive social impact at the same time," Weber said.
During his career at UC Berkeley, Weber advised and mentored dozens of PhD students, and authored numerous books focused on industry transformation in the digital age, including The Success of Open Source and Bloc by Bloc: How to Build a Global Enterprise for the New Regional Order. Weber is universally regarded as a pioneer in the field of scenario planning, and his scenarios for the future of cybersecurity have been widely adopted by leaders in academia, industry, and government to anticipate and address cybersecurity hurdles before they arise.
In 2015, Weber secured a milestone $15-million gift from the William and Flora Hewlett Foundation to launch the Center for Long-Term Cybersecurity. Since its founding, CLTC has become a leader in the field of public interest cybersecurity. In 2018, under Weber's leadership, CLTC established the Citizen Clinic, a trailblazing, public-interest digital security clinic that, similar to clinics in law and medicine, helps prepare and deploy student teams to offer pro-bono cybersecurity assistance to non-profits, journalists, human rights defenders, and social justice activists.
CLTC has more recently played a key leadership role in launching the Consortium of Cybersecurity Clinics, a network of institutions working to deliver cybersecurity resilience in important, at-risk sectors that can least afford cybersecurity technical assistance, such as local municipalities, hospitals, human rights organizations, and small businesses.
"When we started CLTC in 2015, I was very clear with my colleagues that if we only published our research in peer-reviewed academic journals, I would consider this a complete failure," Weber said. "We needed to change practices in the world to make the digital environment a safer, more productive, and ultimately, more humane place. And boy, does that need still hold true today."
A Rooftop Celebration of Steve Weber
Following the Chancellor's award ceremony, friends, colleagues, and past students of Steve Weber's gathered at the Study Hall, on the roof of downtown Berkeley's new Residence Inn, to honor his three decades of scholarship and service. Marti Hearst, Head of School at the School of Information, presented Weber with a picture of the I School and a plaque.
"Steve has given decades of service to UC Berkeley — to his faculty, colleagues, and students, to his field of practice, and to the wider world," Hearst said. "It's really important to gather friends and colleagues together to talk about that."
Ann Cleaveland recalled how Weber convinced her to leave her position at ClimateWorks, a climate advocacy non-profit, to take on the role of directing CLTC. "Steve taught me to think about why cybersecurity was like climate change, and he convinced me that I had something to contribute," Cleaveland said. "He has a talent for seeing what you can contribute and convincing you that you have something to offer that you didn't see in yourself."
Chris Hoofnagle expressed admiration for Weber's writing, and observed that Steve's style of thought is "the best of Berkeley," as it is "fundamentally an enlightenment view. There are no ideas or questions off the table…. Steve is a great guiding light for us."
Anno Saxenian, former Dean of the School of Information, recalled that when Weber joined the faculty of the I School, "his energy, his vision, and his creativity made it actually fun to be a dean." She noted that Steve's presence helped make the I School "an intellectually exciting, interdisciplinary place that was also financially solvent. It was a huge accomplishment."
Jennifer Chayes, Associate Provost of the Division of Computing, Data Science, and Society and Dean of the School of Information, hailed Steve's ability to bridge disciplinary approaches, for example by integrating storytelling and data science. "Steve was what I hoped and imagined Berkeley could be," Chayes said. "Whenever I talked to Steve, I just found these amazing insights. Steve was my favorite person to talk to in all of Berkeley."
Former student Galen Panger also celebrated Weber's "thinking style," as well as his curiosity and optimism. "Steve would ask, how do we take our ideas and apply them even harder than we are thinking currently? Or, what if we're way more wrong — or way more right — than we think we might be? I've just loved being able to be a beneficiary of his thinking. As a PhD student coming into his office, I felt really supported."
Jesse Goldhammer, who earned his PhD with Weber as his advisor, noted that Steve "really and truly cares about the people that he is working with, whether it's co-writing a book, helping someone with a dissertation, or teaching large groups of undergraduates. Steve has a unique ability to always find a kernel of something interesting or insightful or important in what you're saying, no matter how stupid it might be, and to pull that out and make it part of the conversation."
A surprise "visit" came in the form of a phone call from Susana Constenia-Viollslada, the inaugural recipient of the Steve Weber Futures Fellowship for Digital Security and Trust, which has been made possible by generous supporters (see below for more information). Constenia-Viollslada's research centers around the empirical analysis of resilience in development settings, the impact evaluation of big-scale poverty and malnutrition eradication interventions, and the development of early warning systems to prevent malnutrition crises. She will begin her studies this fall in the I School's PhD program in Information Management and Systems.
"It is such an honor to be able to receive a scholarship in your name, because of all the great work you have done," Constenia-Viollslada told Weber. "Thanks so much for the financial support, and for the opportunities this is going to give me to keep working with great teachers and learn to use information science tools for public good."
Weber expressed gratitude to the gathered friends, and also to the philanthropic, corporate, and individual donors "who placed a bet on what we were doing, and continue to do so," Weber said. "I'm grateful to my I School colleagues, and my colleagues in the Department of Political Science. And of course, I'm most grateful to the CLTC's Ann Cleaveland and Chris Hoofnagle, whose job it is to make the next decade better than the last one."
Weber also shared his "secret wisdom" about academic life. "Rule number one: surround yourself with really smart people who know different stuff than you do. Two, ask them really hard questions and then really listen hard to what they tell you. And rule number three: lather, rinse, and repeat, and then arbitrage, arbitrage, arbitrage. To the extent that I had success in my career until now, this is exactly what I did."
Visit this Flickr album to see more photos from the Chancellor's Research in the Public Interest Award reception. Visit this page to see more photos from the Celebration for Steve Weber and CLTC.
Give to the Steven Weber Futures Fellowship Fund
Established in Steve Weber's honor, the Steven Weber Futures Fellowship Fund for Digital Security and Trust directly supports School of Information graduate students who pursue foresight-focused research for healthier and more trustworthy information ecosystems. The Weber Fellowship benefits one or more incoming or current graduate students across all School of Information degree programs whose research interests help decision-makers act with foresight and expand who has access to and benefits from digital information technologies.