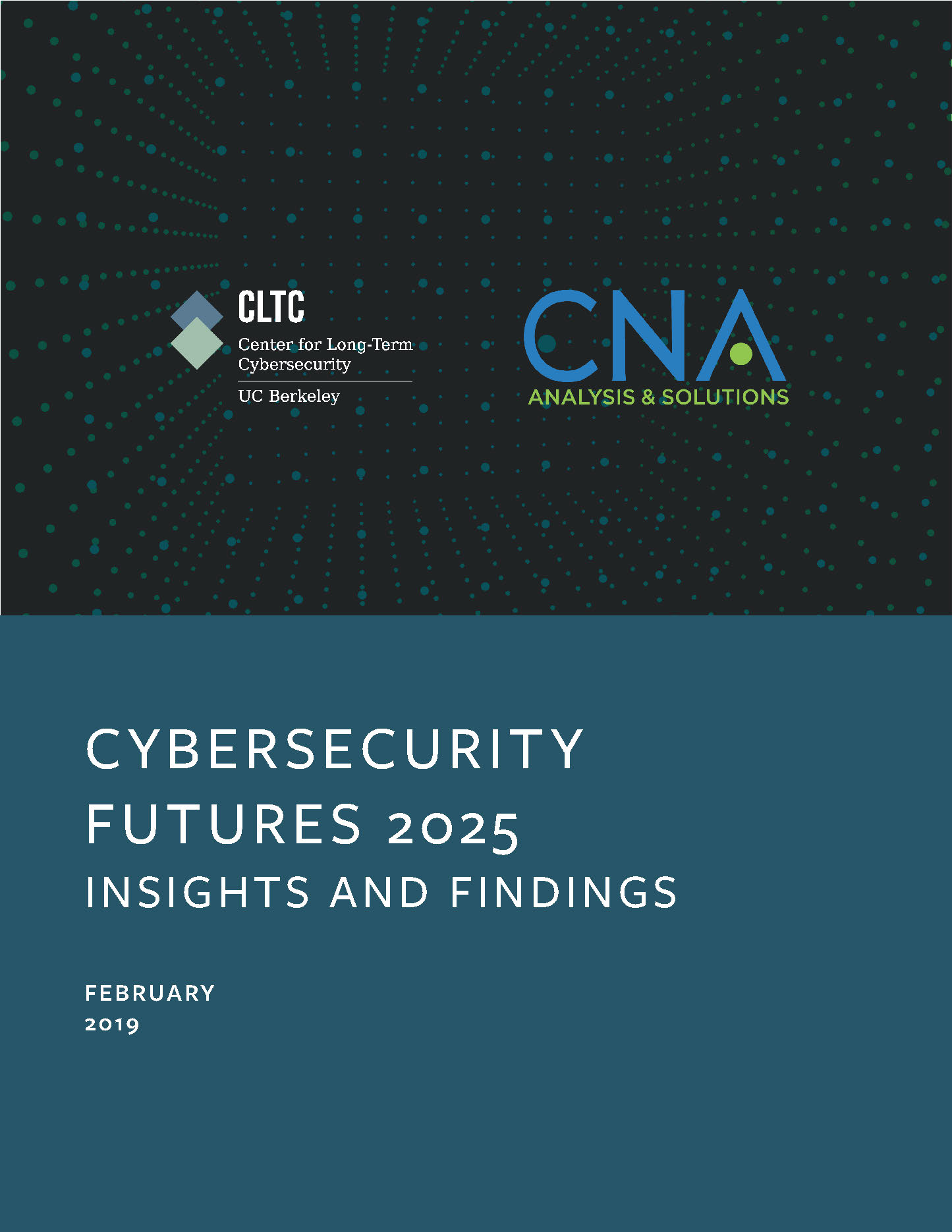 Unprecedented cybersecurity challenges loom over the horizon, and today's operational security agenda is too narrow in scope to address the wide range of issues likely to emerge in the coming years. To address this gap, the UC Berkeley Center for Long-Term Cybersecurity (CLTC), CNA's Institute for Public Research (CNA), and the World Economic Forum's Global Centre for Cybersecurity (C4C) created Cybersecurity Futures 2025, a global initiative that aims to shape a forward-looking research and policy agenda that is intellectually and practically robust—and broadly applicable across global geographies.
"Given the rapid pace of change in the digital environment, it is nearly certain that the cybersecurity landscape in 2025 will look quite different from today," explained Steven Weber, Faculty Director of the Center for Long-Term Cybersecurity. "The purpose of Cybersecurity Futures 2025 is to help decision-makers think broadly and in a disciplined way about how emerging technologies intersect with social, political, and economic trends to remake the cybersecurity landscape as we know it."
"We are honored to be part of a partnership that gives the world a glimpse at the digital insecurities we could all face in the future," said Dawn Thomas, an associate director and research analyst on the Safety and Security team of CNA. "The more we stepped through the scenario world with stakeholders, the more we all realized that elements of these worlds are already surfacing. This report takes leaders of all types through a thought-exercise that will better position them to break away from the current challenge of operational security and look ahead to the range of cybersecurity issues and challenges that will emerge. We look forward to working with our partners in government, industry and civil society to try and prevent the worst of the outcomes while promoting environments where the 'upsides' can come to fruition."
Sponsored by HP, Inc. and Qualcomm, with additional support from Cybercube and Symantec, the Cybersecurity Futures 2025 project began in 2017, when CLTC developed a set of four scenarios depicting possible futures that could result from the rise of artificial intelligence, ubiquitous sensors, quantum computing, divergent internet regulations, and other trends. In 2018, the project team convened a series of workshops in seven international cities to engage experts and decision-makers in dialogue about the challenges and opportunities the scenarios depict. "The scenarios are not predictions, as none of the stories will 'come true' in a strict sense; however, elements from each of these scenarios are likely to be a part of the future digital environment," Weber says. "The workshops helped expose how attitudes and perspectives are developing and diverging across geographies."
The resulting report, Cybersecurity Futures 2025: Insights and Findings, provides an overview of key findings, as well as the full scenarios themselves. A website (cyberfutures2025.org) features short videos that depict the four different scenarios and allow users to interact with some of the key ideas and insights. A brief video featuring Walter Parkes—Hollywood producer and screenwriter of WarGames, Sneakers, and Minority Report, among other films— introduces the four scenario videos. The Cybersecurity Futures 2025 website also includes a "decision-making heuristic" designed to help institutional leaders assess their own strategic needs and possible actions they could take today to help their organizations prepare for the future.
In the coming months, the organizers will continue to expand the applications of this work and develop the insights from the project with new audiences, locations, and settings. As a starter, CLTC and CNA will host a Cybersecurity Futures 2025 session at RSA Conference 2019 in San Francisco on March 6, 2019. Individuals and institutions interested in learning more should contact CLTC at cltc@berkeley.edu.
Download the report here, or visit this page to learn more about this project.