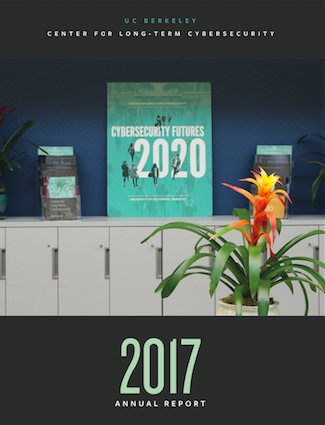 The UC Berkeley Center for Long-Term Cybersecurity (CLTC) is pleased to announce the release of our 2017 Annual Report, which provides a review of our activities from the past year—a period that reinforced the importance of a dedicated research center focused on cybersecurity.
"From the WannaCry virus and Equifax breach to revelations about election interference in the U.S. and Europe, 2017 provided nearly constant reminders about the challenge and importance of building a robust and secure world for the digital age," wrote Steve Weber, CLTC's Faculty Director, and Betsy Cooper, Executive Director, in an introduction to the report. "The past year also marked an important phase in the evolution of [CLTC], as we have continued to grow and evolve in our mission to support more secure digital futures."
The 2017 Annual Report is organized to highlight different areas of CLTC's operations, including our research and thought leadership, education, collaboration and strategic communication, and continuing organizational development. To highlight just a few of the outcomes in the report:
We allocated more than $1 million in funding to 28 different research initiatives focused on cutting-edge research areas, with an emphasis on machine learning and artificial intelligence, expanding the cybersecurity talent pool, exploring new regulatory and governance structures to support cybersecurity, and protecting vulnerable online populations.
We published a series of white papers focused on diverse topics, including a proposal for a "Cyber Workforce Incubator," the first-of-its-kind analysis of cybersecurity risks in the Olympic Games, and a set of scenarios about the future of cybersecurity in Asia.
We helped coordinate the launch of "cybersecurity@berkeley," UC Berkeley's new Master Degree in Information and Cybersecurity (MICS), which will welcome its first cohort of students in June 2018.
We published (and/or helped our grantees publish) op-eds in high-profile media outlets, including the Washington Post, CNN, USA Today, New York Times, Slate, and The Hill. We also published academic work in a variety of academic journals.
We conducted fall- and spring-semester sessions of "Info 290: Future of Cybersecurity Policy Reading Group," a one-credit reading group focused on cybersecurity policy problems.
We hosted and sponsored an array of public events, including "Women In Tech: A Symposium On Innovation & Entrepreneurship," which highlighted the experience of women in the tech industry," and we convened a panel with the Center for Strategic and International Studies (CSIS) Cyber Policy Task Force focused on recommendations for the Trump administration.
CLTC moved into our new permanent home on the UC Berkeley campus, allowing our staff and campus collaborators to work together in a shared space.
We added three new researchers and two staff members, significantly growing our ability to invest in long-term projects and respond to short-term opportunities.
"We remain convinced that the future of cybersecurity is one of the important issues facing modern societies, and that the current social and political climate inside the United States adds greater urgency to our work both domestically and internationally," Weber and Cooper wrote. "We have built a distinctive position as an academic research center that pays equal attention to scholarly research, policy, and corporate engagement; and we continue to develop our work under the proposition that these three ingredients—managed carefully—are compatible and synergistic."