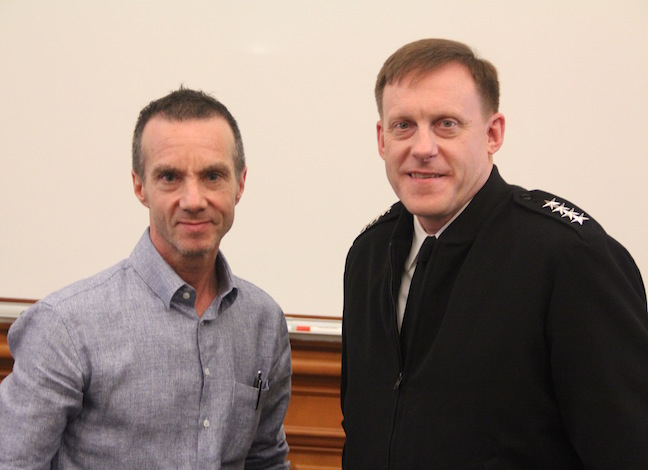 On October 20, the UC Berkeley Center for Long-Term Cybersecurity (CLTC) hosted a discussion with Admiral Michael Rogers, Commander of the United States Cyber Command and Director of the National Security Agency.
In an hour-long event moderated by Steve Weber, Faculty Director of the CLTC, Admiral Rogers engaged in a far-reaching conversation with a group of approximately 25 invited guests from the UC Berkeley research community, as well as guests from outside institutions, including the Lawrence Livermore National Labs.
Admiral Rogers told the attendees that he visits the Bay Area frequently to tap into the expertise found in this region, both in the private-sector and academia. "The problem sets we're all trying to deal with – ensuring the rights and security of our citizens – are not going away," he said. "This region is an amazing laboratory to work our way through some of these issues. I'm trying to engender a conversation where we're talking to each other, and not just past each other."
Addressing how the work of researchers could be useful for national security, Rogers stressed the importance of continuing to tackle cybersecurity from an interdisciplinary perspective, encouraging attendees to pursue research in areas such as deterrence, automation, machine-learning, quantum technology, and visualization. Admiral Rogers also expressed an interest in new approaches to training and workforce development. "How do you build a workforce, ensure its capabilities remain applicable over time, and do it to scale?" he asked. "The role you play in training the workforce is incredibly important. While the technology is amazing, it is the human capital that is the real edge. I don't want a workforce of cookie cutters. I believe that diversity of experience and perspective leads to better outcomes."
Rogers told the audience he hopes to maintain dialogue with UC Berkeley researchers along with other academic communities in the coming years. "In the end this is going to be about the power of partnerships – the best of government, private sector, and academia working together," he said. "We're one of the few nations in this world where we'd have this dialogue –where you'd have the director of one of the largest intelligence agencies sit down to talk freely about, what is the role of government, what should we do and not do? It's a great strength for us as a nation, but at times it can create a very uneven world . . . . Our greatest strength is [that] we are built on values. If our opponents drive us to become something we aren't, they have won."
Click to read more about Admiral Rogers' Command Vision.