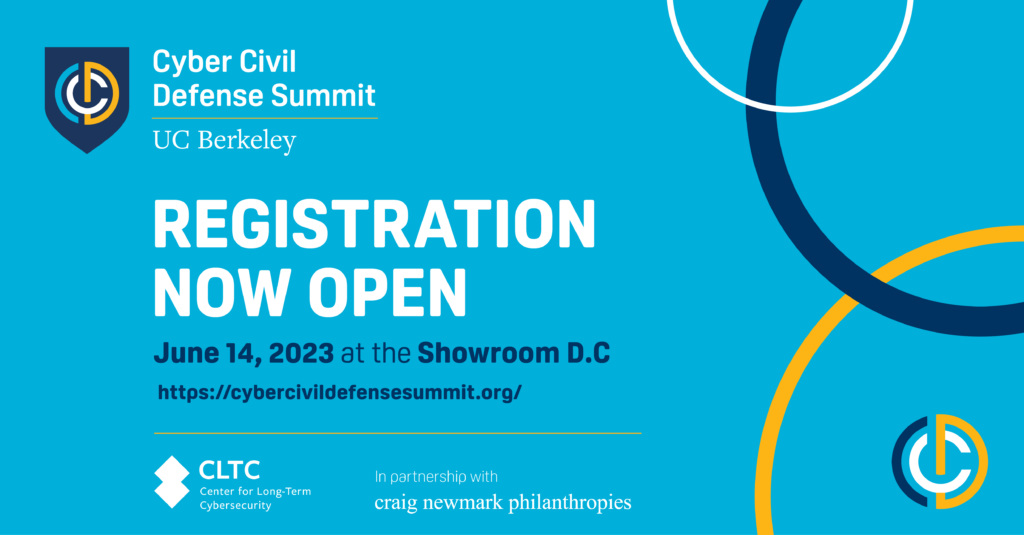 Registration is now OPEN for the UC Berkeley Cyber Civil Defense Summit.Thank you for confirming your interest in our previous Save the Date — you are the first to hear about the registration launch!
Space is limited and tickets will go fast, so make sure to snag your ticket today.
The event will be held Wednesday, June 14th at The Showroom in Washington DC. For more information on the agenda, speakers, and venue, please check out our website at https://cybercivildefensesummit.org/.
Hosted by: UC Berkeley's Center for Long-Term Cybersecurity, in partnership with Craig Newmark Philanthropies
When: June 14th, 2023, 9:00am to 4:00pm
Where: The Summit DC, 1099 14th Street NW, Washington, DC 20005
The Summit: The Cyber Civil Defense Summit — a one-of-a-kind gathering of cyber defenders, academics, and policymakers with the mission of protecting our most vulnerable public infrastructure, from municipalities to nonprofits to small hospitals.
This year's theme is Innovation, and the Summit will showcase and analyze creative aimed at helping community organizations, including providing proactive services to bolster resilience and reactive services to enhance incident response and recovery.
The Summit endeavors to join forces across defenders, academics, volunteers, and public servants to showcase replicable models of regional cyber defense.
Who should participate: Anyone involved in, or interested in, cyber defense! Our Summit is not sector-specific, and we welcome participants from all industries, backgrounds, and job descriptions.
More information on the agenda, speakers, and venue can be found at https://cybercivildefensesummit.org.