The Center for Long-Term Cybersecurity is proud to co-sponsor "Towards Inclusive Tech," a 1.5-day conference to be held on September 14-15 that will bring together leaders from the business, non-profit, and academic communities "to identify the most promising research and business and educational practices that will support our commitments to greater diversity and inclusion." The conference was organized by the UC Berkeley School of Information (home of the CLTC), and other co-sponsors include the UC Berkeley Division of Equity & Inclusion and the Haas School of Business Center for Gender, Equity, and Leadership.
"Towards Inclusive Tech springs from a sense of urgency about our limited success in diversifying the technology industry," explains the conference's website. "We seek to engage a robust dialogue between researchers and practitioners about how to build more inclusive technical education and workplaces — and to inspire a new generation of scholarship and practice in the area."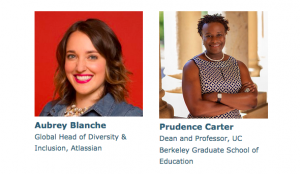 Towards Inclusive Tech will feature a variety of panels and presentations, with keynotes on both days. On Thursday, Aubrey Blanche, Global Head of Diversity & Inclusion, Atlassian, will present "What are we doing, anyway? Big questions (and some answers) for inclusion in tech". On Friday, Prudence Carter, Dean and Professor, UC Berkeley Graduate School of Education, will present "Why Inclusion Is Not Diversity: Distinguishing Between Demographics and Organizational Structures." Other panels and presentations include "The Tech Inclusion Landscape," "Lessons from Inclusion Research," "Pipeline Programs That Work," and "The Business Case for Investing in Women." The agenda can be found here. All sessions will be held in Banatao Auditorium in Sutardja Dai Hall, on the UC Berkeley campus.
"Over a day and a half, we seek to reframe the debates about the role of women and other underrepresented groups in technology industry," the website says. "Ultimately, the goal of the Towards Inclusive Tech conference is to construct an interdisciplinary agenda for inclusion that we can revisit and revise in the years to come."