Over the past year, Jonathan Reiber, Senior Fellow with the Center for Long-Term Cybersecurity, has spent time working in India, where he has engaged with industry and government leaders to promote dialogue around issues related to cybersecurity. Reiber explains that these efforts are a continuation of work he began as Chief Strategy Officer for Cyber Policy in the Office of the Secretary of Defense. "When I was in the Pentagon, among others I advocated strongly for increased U.S.-India ties in security affairs, and cybersecurity cooperation was a natural step in our partnership," Reiber explains. "There was broad agreement for including India in the 2015 Department of Defense Cyber Strategy as well as other strategic guidance documents."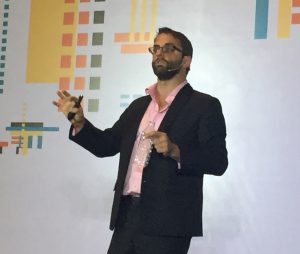 Recently, Reiber, together with Jesse Goldhammer, Senior Advisor to the CLTC, represented the Center for Long-Term Cybersecurity (CLTC) at three meetings with government and industry leaders in New Delhi and Mumbai.
On September 27, Reiber joined the U.S.-India Track 1.5 cyber dialogue discussions with senior governmental and non-governmental leaders from both countries. Convened by the Council on Foreign Relations, New York, and the Observer Research Foundation, New Delhi, the Track 1.5 dialogue is identifying ways in which New Delhi and Washington can deepen their relationship on cyberspace policy issues. The dialogue includes senior representatives from the Indian and American governments, the private sector, civil society, and academia. At the conclusion of the dialogue, the conveners will publish a report outlining specific policy recommendations for the coming years.
"The Track 1.5 dialogue emerged out of the U.S.-India Strategic and Economic Dialogue between the two countries," Reiber explains. "It's a wonderful opportunity for business, academic, and political leaders to provide recommendations on cybersecurity issues, from training to export control reform to defense cooperation."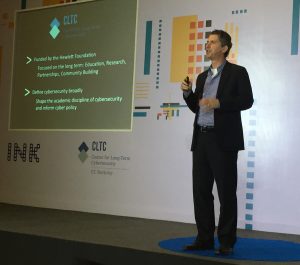 On September 30, Goldhammer presented at the Observer Research Foundation's CyFy conference in New Delhi, and used CLTC's Cyberfutures 2020 scenarios to frame a discussion about how cybersecurity will evolve over the next five years. Several panelists and many conference participants had already read the CLTC scenarios and have been using them for strategic planning. "People seemed to appreciate both the concepts behind scenario thinking, and the specific narratives of the CLTC scenarios," Reiber says. "All of us get stuck in current operations, and scenarios help upend our assumptions and thinking about the future. It's a pretty cool approach and the participants seemed to appreciate it."
On October 3, Reiber and Goldhammer partnered with INK (similar to the U.S.-based TED) in hosting a forum on the future of cybersecurity. More than sixty executives attended the day-long event, among them senior leaders from the Reserve Bank of India, InfoSys, HDFC Bank, Edelweiss, Vara, and the Indian Association of Chambers of Commerce, among others. Reiber and Goldhammer presented on current and future challenges in cybersecurity; they were joined by Angela McKay, Director of Cybersecurity Policy and Strategy in the Global Security Strategy and Diplomacy team at Microsoft, and Sean Kannuck, Distinguished Fellow of the Observer Research Foundation.
"In a world so often full of dark security risks, U.S.-India cyber cooperation remains an area of positive opportunity," Reiber says. "Given its analytic resources and convening power, UC Berkeley has the opportunity to deepen academic, intellectual, and strategic engagement between the U.S. and India on cybersecurity. These two historic countries have vital roles to play in technology and policy, and the CLTC has a role to play in bringing them together."