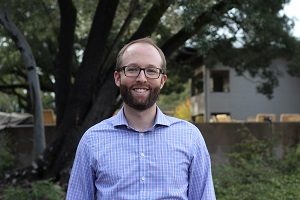 The Center for Long-Term Cybersecurity was established with a generous seed grant from the William and Flora Hewlett Foundation. Now the Hewlett Foundation has published an interview with Steve Weber, CLTC's Faculty Director, on its blog, Work in Progress.
The interview, "Four Questions for Steven Weber on Cybersecurity Futures 2020," was conducted by Eli Sugarman, Program Officer for the Cyber Initiative at the Hewlett Foundation.
Among the issues discussed: how CLTC's multidisciplinary approach contributed to the development of the scenarios, and how they feed back into research; how the use of narrative is important for helping the public understand cybersecurity; and why tackling cybersecurity is a uniquely global challenge.
"People sometimes talk about a collaborative moonshot approach, but it's important to remember that the moon was not an intelligent adversary that was trying to defeat the attempt to land on its surface," Weber says. "So my advice is to get out ahead of the game and identify areas for cooperation that will start to emerge just over the horizon. . . . I  also want to endorse strongly the Hewlett Foundation's emphasis on addressing the global dimensions of the cybersecurity challenge. The Internet is still a new enough realm of political-economic-security games that the concept of national interest in those games is up for grabs."