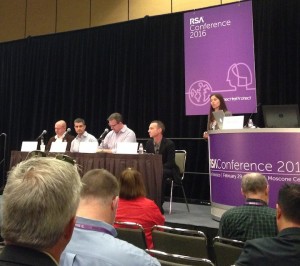 On Wednesday, March 2, the UC Berkeley Center for Long-Term Cybersecurity (CLTC) hosted two panels at the 25th anniversary RSA Conference (RSAC), one of the world's largest cryptography and information security conferences, at the Moscone Center, in San Francisco.
The panel, "How to Prepare for Cybersecurity in 2020: A Panel Discussion," was moderated by the CLTC's Executive Director, Betsy Cooper, and Steve Weber, Faculty Director. Guest panelists included Sameer Bhalotra, Co-Founder & CEO of StackRox; Martin Giles, Principal Former Writer for The Economist and Partner with Wing Venture Capital; and Marc Goodman, Founder of the Future Crimes Institute.
Rachael King, a reporter for the Wall Street Journal, reported about the panel in a blog post entitled, "Companies Need to Apply Disaster Response Planning to Cybersecurity" (note: a subscription is necessary to view the post). Summarizing some of the key points of the event, King noted that "companies need to apply the same level of long-term scenario planning used in disaster preparedness to cybersecurity" and wrote that planning is a "first step towards preparing for a future where organizations are entrusted with ever-more-personal customer data, including algorithms predicting human behavior."
As noted in King's article, the CLTC will soon be releasing a set of scenarios detailing different narratives for the future, focused on cybersecurity and technology. Stay tuned for more details on the release, to occur in Washington, DC, later this spring.