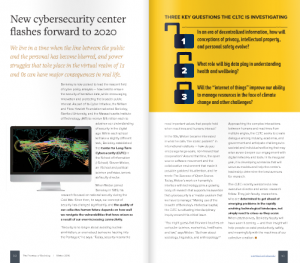 The Center for Long-Term Cyberecurity (CLTC) is profiled in the Winter 2016 issue of The Promise of Berkeley, a publication produced "for alumni, parents, and friends who shape Cal's future." Published by University Development and Alumni Relations, this publication highlights compelling news stories from across the UC Berkeley campus and beyond.
The article profiles the goals and future-oriented mission of the CLTC, based in part on an interview with our faculty director, Steve Weber. "Security is no longer about avoiding nuclear annihilation, or even about someone hacking into the Pentagon," Weber told the article's author. "Today, security means the most important values that people hold when machines and humans interact."
The article notes that the CLTC is "making use of the breadth of Berkeley's intellectual capital" and "cultivating interdisciplinary inquiry around this critical issue." The story highlights key research areas in which the Center is engaged, such as the internet of things, big data, and changing perceptions around privacy and intellectual property.
"When 2020 arrives," the article says, "Berkeley faculty will have seen it coming–and their insight will help people co-exist productively, safely, and meaningfully with the machines of our collective creation."
The full article from The Promise of Berkeley can be found here.