On September 3, 2015, UC Berkeley's Center for Long-Term Cybersecurity hosted Dr. Chris C. Demchak, Grace M. Hopper Chair of Cyber Security and Director of the Center for Cyber Conflict Studies in the Strategic Research Department of the U.S. Naval War College.
In a presentation entitled "Political and Economic Coercion and a Post-Western Cybered World," Dr. Demchak raised critical questions about the current and future state of "cybered conflict," and addressed the declining role and influence of western liberal democratic states in a world where every nation takes its own approach toward managing and employing the Internet.
In her talk, Demchak defined cyberspace as a "globally ubiquitous, unfettered, socio-technical-economic system acting as 'substrate' to all significant societal processes, products, and outcomes." This substrate, she argued, was developed by the West, but now has "grown up under our feet"—and has already moved far beyond our control.
"We built the substrate, we shared it, and they're operating it differently, and now it's influencing back on our system," she said. "What are we going to do?"
Demchak described the emergence of a new "Cyber Westphalia," in which different groups of actors operate according to their own laws, and noted how China, the Middle East, Russia, Europe, and the United States have all developed their own distinct approaches to managing the Internet. She argued that we have moved into a "post-western cyber-landscape" where "legacy rules and enforcement will be contested."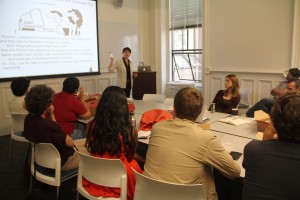 Part of the issue, Demchak pointed out, is that our perception of the Internet is entangled with values, such as transparency and openness, that are not necessarily shared by the rest of the world: "We have a lot of doubt in the U.S. and Europe when dealing with deception and opaqueness," she said. "We make a big deal about transparency, and so we have trouble with the rise of adversaries or predators or alternatives that can use that against us."
Demchak argued that we need to think deeply about what to do when basic western economic and political theories relying on transparency do not apply to the bulk of the world's societies. She urged scholars to consider how the world's few consolidated democracies can develop "critical systemic resilience" to "maintain leverage and security in a post-western, deeply cybered world."
Note: Demchak emphasized that the comments in her presentation were her own and do not reflect the policy of the U.S. Government or Department of the Navy.